Softbank boss promises 'massive price war' if he can buy T-Mobile US
Wants to take on AT&T-Verizon duopoly on bills and technology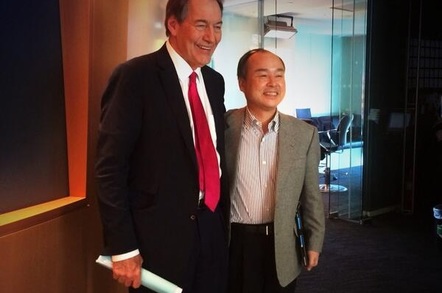 The billionaire boss of Softbank, which owns US network Sprint, has promised a price and technology war with American mobile market leaders AT&T and Verizon – if he's allowed to merge with T-Mobile US, of course.
Masayoshi Son made the promise during an interview with PBS' Charlie Rose, as embedded below. Son said Verizon and AT&T, numbers one and two in the US mobile market respectively, were sucking up 90 per cent of the disposable cash in the market. Sprint, the number three player, wants to merge with the number four player T-Mobile US, so he can fight on a nearly level playing with the two industry behemoths.
"If I can have a real fight I'd go in with a massive price war and a technology war. I want to be number one," he said. "I would go with price competition very much aggressively and network competition to create the world's best network."
Softbank bought Sprint in 2013 after getting the nod from the American government, and has spent the last year upgrading its network. Sprint backed Intel's WiMax standard for 4G, a mistake that cost the company dearly, but it is now shifting to LTE in line with the rest of the US market.
Son said he would like to merge with T-Mobile US, which is the fastest growing mobile carrier after its CEO sparked a price war. So far that conflict has forced AT&T and Verizon to cut prices and increase users' mobile broadband download allowances.
While there has been no formal offer for T-Mobile US by Sprint, it's clear there have been informal discussions. On Monday T-Mob US's CFO Braxton Carter said such a merger was highly likely in the future, assuming regulators give a thumbs up.
The US government blocked AT&T's proposed merger with T-Mobile US on competition grounds, pointing out (correctly in El Reg's opinion) that reducing competition isn't what the expensive US mobile market needs. But a merger of the two minnows of mobile may be looked on more favorably, although one Department of Justice official thinks otherwise.
Son said he was willing to forgo short-term profits in order to stimulate long-term growth in subscriber numbers – a tactic that's working for T-Mobile US, which admittedly ran up a $20m loss in the last quarter. ®