Pure Storage CEO goes BALD after losing bet on firm's results
Storage upstart boss shaves head after better-than-expected quarter
Pic Pure Storage CEO has made good on his bet and shaved his head in response to Pure Storage's results.
The all-flash array startup boss said he'd shave his head if Pure's sales, sales order management and shipping folks managed to double the firm's business in the fourth quarter. They did and so Scott Dietzen's cranial follicles have suffered as a result.
This is some kind of new benchmark in CEO commitment to act as an inspirational figurehead and driver. How could other start-up CEOs respond? Colour their hair green? Spend a day in the office dressed as Batman? Have a facial piercing? Bring it on is what we say.
Pure's results, as trailed on the company blog, were pretty darn good:
723 per cent year-on-year bookings growth
More than 50 per cent growth each quarter in 2014
More than 100 per cent growth Q3 to Q4
Shipped its 1,000th Pure FlashArray product and grew customer base 650 per cent
Recorded 99.999 per cent availability across its entire customer base
It used its high level of funding to open offices "all over the world, including Germany, Netherlands, UK, Japan, Korea, Singapore, Australia and New Zealand, as well as major cities across the US."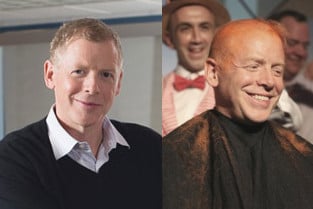 Scott Dietzen before (L) and after (R) shaving his head. What's with the tuft?
Bare: Scott Dietzen.
There have been several recent exec hires:
Steven Rose, ex-Violin Memory EMEA head, becomes EMEA VP
Carlo Wolf, ex-Cisco, is director for central EMEA
Peter Gadd, ex-EMC, becomes director for northern EMEA
Michael Alp becomes VP for Asia-Pacific and Japan
Clearly Pure is strengthening its go-to-market infrastructure.
This is breakneck growth by any measure and it was in the fourth quarter that EMC assigned GA status to its previously limited-availability XtremIO array. The big deal for Pure is keeping up its growth rate in the face of strengthening competition from EMC, IBM with its TMS-based FlashSystem, NetApp with the EF550 and coming FlashRay, Dell, Hitachi Data Systems and HP, three vendors with all-flash systems inside their existing array products - Compellent, VSP/HUS/VM and 3PAR respectively, and Cisco/Whiptail (although this seems to be a toothless old flash dog at the moment).
What a shock it will be if Pure's breakneck growth continues. It needs to, in order to justify the funding it has been given, and the omens look good. If the growth rate continues though, how will Scott Dietzen inspire the troops later on this year? I'm betting on green hair… ®
Sponsored: Minds Mastering Machines - Call for papers now open