Foxconn preps for Peak Apple with FIFTEEN THOUSAND new hires
Fruity fabricator embarks on Taiwan recruitment drive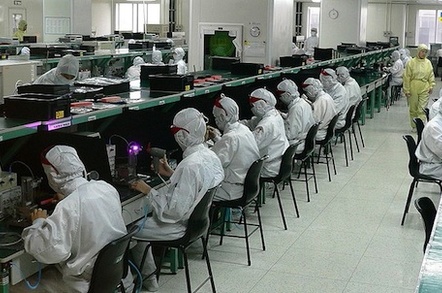 Foxconn, also known as Hon Hai Precision Industry Co, has embarked on a hiring spree in Taiwan and will welcome more than 15,000 new workers through its doors during the coming year.
More than a million people now work for Hon Hai, which builds iStuff for Apple.
The new staff will work in 4G wireless services, cloud computing and e-commerce, although it is not known how many of the new recruits will be funneled into each sector.
Hon Hai, which is more commonly known as Foxconn, recently won two licences in Taiwan's lower 700MHz and 900MHz bands and also plans to build products which use Mozilla's Firefox operating system.
It may be looking to reduce its reliance on Apple, which is currently building sapphire glass production facilities in the united States. However, it may also just be interested in diversifying, as the market for smartphone and tablet manufacture is chock-full of competitors now. ®