Satisfy my scroll: El Reg gets claws on Windows 8.1 spring update
Let's have a look
A few tweaks is not enough
Some things require not just tweaks, but proper design decisions, and these have been ducked in the Update. For example, tablet-friendly corner activation has been retained, but this results in a very ugly overlay when the Taskbar is docked on the left. Here you can see it attempting to draw the Win 8 style switcher – but failing. After a bit of mouse wiggling, it works, eventually.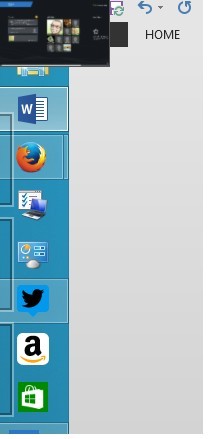 Another Windows 8 WTF moment.
It's trying to draw new-style thumbnails
over the old-style Taskbar
Almost everything in this "Spring Update" is welcome – and it's the most usable Win 8.x yet. But it doesn't really do any spring cleaning. Windows 8.x is still a shotgun marriage of two different UIs, and while it's easier to navigate around them, Microsoft doesn't grasp the nettle, and show any sign of long-term planning.

Metro Modern apps go on the taskbar, and get a little menu
Yet the one outstanding problem – the fourth in the list above – hasn't been solved by the tweaks, and will never be. This is that the Modern apps simply aren't very good.
Many, if not most, appear to have tumbled out of an industrial park in Malaysia. One or two do appear to come from a well-funded Western corporation with a history of design: Microsoft's own Bing News looks quite slick. Nokia Mix Radio does what it says on the tin. Viewer-style apps do OK.

In the ironically named "Personalization" box, you can choose
any title bar text colour you want - as long as it's black
But who, given the choice, would use the Modern Twitter app when the old, Desktop-style Tweetdeck is available? Who'd use Evernote Touch for Windows, when the Evernote app can be installed? The Touch version is really just a very crude viewer – it doesn't allow you to choose which Notebooks to sync. I have a Symbian-era third party Evernote client that does that. The "Modern" eBay and Amazon apps belong in a different universe to their iPad counterparts. And lastly, there's nothing as sophisticated as a fairly standard physics-based children's game, or music app, found in the iPad section of the iTunes Store.
So, for all the discomfort that's been inflicted on desktop Windows users, Microsoft needs to answer the question: has this been worth it? Is it time to "reimagine" Windows again, so that tablet and phone users get one experience, and PC Windows – if it has to do anything - simply provides a runtime for these phone and tablet apps?
Answers below, if you please. ®
Sponsored: Minds Mastering Machines - Call for papers now open