Indestructible Death Stars blow up planets with glowing KILL RAY
No convenient exhaust port this time, Luke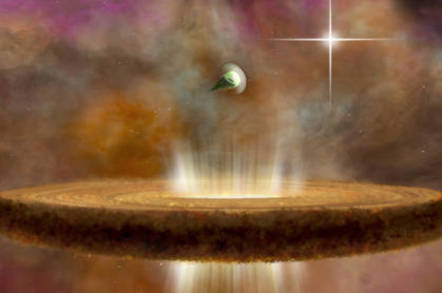 Pics Move over, Lord Vader. A group of astroboffins using Chile's high-desert Atacama Large Millimeter/submillimeter Array (ALMA) have peered into the Orion Nebula's planetary nursery and discovered that massively powerful stars can be so intense that they blow away any chance of planets forming around new stars being born in their neighborhoods.
"Using ALMA," research lead Rita Mann told Astronomy Magazine, "we looked at dozens of embryonic stars with planet-forming potential and, for the first time, found clear indications where protoplanetary disks simply vanished under the intense glow of a neighboring massive star."
Mann and her team of Canadian and US scientists published their findings in a paper in the Astrophysical Journal titled "ALMA Observations of the Orion Proplyds" — proplyds being protoplanetary disks, rotating masses of dust and gas surrounding nascent stars that could accrete into planets.
No planet-forming accretion will occur in some of the proplyds Mann and her team studied, however — their dust and gas is being heated, broken up, and swept away by the highly energetic photon attack of nearby hot blue-white O-type stars.
"O-type stars, which are really monsters compared to our Sun, emit tremendous amounts of ultraviolet radiation and this can play havoc during the development of young planetary systems," Mann said.
One of the proplyds studied by the research team is the well-known and mind-bendingly large 114-426, which is about 1,000 astronomical units in diameter – if you missed that day in Cosmology 101, 1AU is the distance between the Sun and the Earth. The orbit of excommunicated ex-planet Pluto, by comparison, averages around 39.5AU from the Sun.
Unfortunately, proplyd 114-426 was not one of the 30 embryonic planetary systems in the Orion Nebula that were stunningly imaged by the Hubble Space Telescope (HST) in 2009, but the HST did catch a snap of it a decade earlier.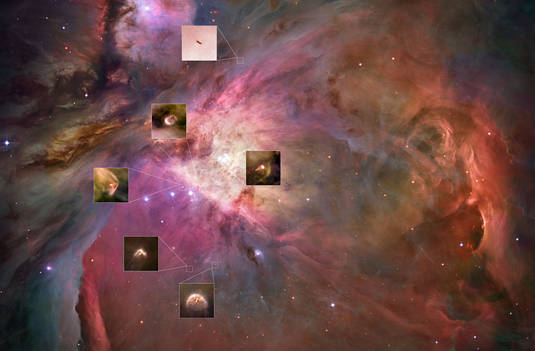 HST's glamour shot of proplyds in the Orion Nebula, with a few called out for close-ups (click to enlarge)
In the HST image, you'll notice that a few of the proplyds aren't simple disks, but instead have irregular shapes with dust and gasses streaming away from their centers. That's the work of O-type stars a tenth of a light year away or closer (600 billion miles, give or take), whose energies are forcing matter away from the star-forming center of the proplyds.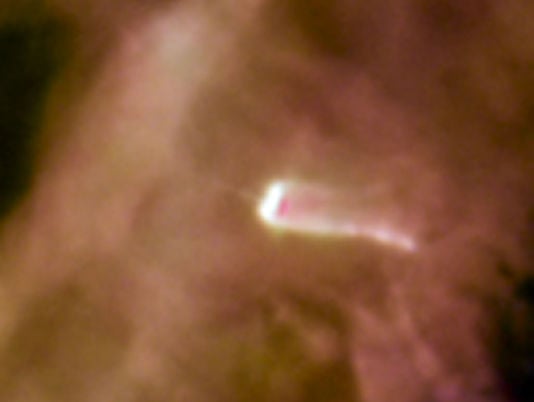 Poor proplyd 109-327's disk is being blown away by the Orion Nebula's big blue baddass Theta 1 Orionis C
That matter won't have time to congeal into planets, and will instead join the morass of gas and dust that forms the Orion Nebula itself, perhaps to accrete into another proplyd and try again.
Ironically, massive stars such as the O-types ruining the planetary ambitions of nearby proplyds are also one of the sources for their dust and gas in the first place. These big boys lead short but highly energetic lives, and don't merely burn out quietly, but often explode as supernovae. When that happens, they litter their neighborhoods with dust and heavy elements, which in turn eventually combine into new stars.
C'mon now, let's all join in a reverent chorus of Sir Elton Hercules John's "The Circle of Life". ®
Sponsored: Minds Mastering Machines - Call for papers now open