Why can't I walk past Maplin without buying stuff I don't need?
Blow me a fuse, darlin', I got 499 more where that came from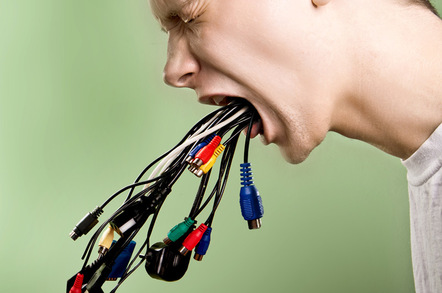 Something for the Weekend, Sir? Good news – after weeks of slaving over a seemingly interminable office refurb, occupying seven days a week and painstakingly documented in this column ad nauseam, I finally found some time to get some chores done.
Time for me! Time that doesn't involve paying bills or having to apologise for missing deadlines! Time not covered head-to-foot in dust and waist-deep in miles of ancient kinked Ethernet cables that inexplicably tie themselves into Gordian-style entanglements when you're not looking! Time not spent moving all our gear from one end of the room to the other for the fifth fucking occasion for the convenience of the decorators!
This is the magical period during the working day that American psychologists call "personal time", British wage-slaves refer to as "lunch hour" and which only the French get right by making it last twice as long. I can now enjoy a whole variety of head-spinning mid-day thrills, hitherto under-rated, such as buying a sandwich, getting my shoes mended or nipping out to the bank.
Bad news – it was during one such excursion to the bank that I discovered a perfectly useless way of filling my precious free minutes with an expensive yet entirely unproductive alternative pursuit.
What happened? Dear reader, surely you will sympathise when I share with you the sheer inescapable horror of the situation and the tragedy of its inevitability. While men in other fields of employment succumb to conventional lunchtime temptations such as the pub or the betting shop, people like us are, let's say, a bit different from normal people.
Suffice to say, I have located my nearest Maplin store.
Why is it that, as soon as I spot the Maplin sign, I feel compelled to go in? I mean, the place is so unappealing what with all that baby-blue branding, static-building carpet tiles and staff so spotty and nerdy that they make Mark Zuckerberg look like he stepped out of 300: Rise of an Empire. Why can't I just turn on my heel or do a Dionne Warwick?
My computing, network and electrical gear is sourced through a perfectly good specialist supplier. And currently, pending the final CAT6 replumbing project for the post-refurb office, there is nothing that I need that Maplin can offer me. Yet here I am again, wandering up and down the hallowed aisles of the big M in slow motion, waving away offers of assistance every 15 seconds and wondering whether to buy another five-metre extension block or a bag of loose RJ45 connectors "just in case".
Sponsored: Minds Mastering Machines - Call for papers now open