Ballmer: 'Microsoft would have a stronger position if I could redo the last TEN YEARS'
Plus: 'I'll invest in sheep, potable water, and tradable women'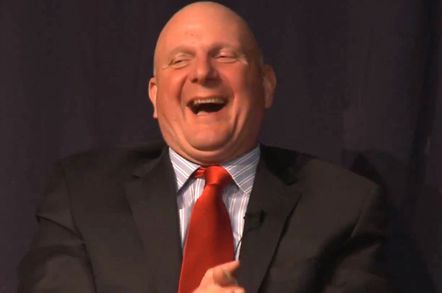 Quotw This was the week when MtGox finally admitted that it had probably lost all its Bitcoin investors' money, although it refused to give any definitive statements.
The one-time top digital currency exchange said on its website:
At the start of February 2014, illegal access through the abuse of a bug in the bitcoin system resulted in an increase in incomplete bitcoin transfer transactions and we discovered that there was a possibility that bitcoins had been illicitly moved through the abuse of this bug.

As a result of our internal investigation, we found that a large amount of bitcoins had disappeared. Although the complete extent is not yet known, we found that approximately 750,000 bitcoins deposited by users and approximately 100,000 bitcoins belonging to us had disappeared.

We believe that there is a high probability that these bitcoins were stolen as a result of an abuse of this bug and we have asked an expert to look at the possibility of a criminal complaint and undertake proper procedures. On the same day (24th), we found out large discrepancies between the amount of cash held in financial institutions and the amount deposited from our users. The amounts are still under investigation and may vary but they approximate ¥2.8 billion.

We are investigating the causes of these problems. Since there are probably a variety of causes including hacking by third parties, we need to investigate a huge amount of transaction reports in order to establish the truth. As of this date, we cannot confirm the exact amount of missing deposit funds and the total amount of bitcoins which disappeared. Once we discovered that bitcoins had disappeared and the discrepancies between cash funds and deposit balances, we judged that it would be difficult to continue our activities normally and we therefore closed our site at noon on the 25th.
The news has understandably left a lot of investors seriously pissed off and many of them are now seeking compensation for what happened. British law firm Selachii has been gathering names for a class action suit against the exchange and its chief exec Mark Karpeles and says it has over 400 people interested in suing. Richard Howlett, co-founder of the firm, told The Reg that it was very difficult to say at this stage what had gone wrong at MtGox:
One of the problems and main issues that is leading to suspicion is the lack of information coming from MtGox. It is unknown at this stage if fraud is involved but this is something that will come out in disclosure.
Meanwhile British Bitcoin developer Richard Broadley claims to have lost more than £200,000 in the collapse of the exchange and has contacted the police in MtGox' home turf. He told The Reg:
I have contacted Japanese authorities to see if I can progress this, but of course, I would welcome any advice and support that might be available.
And MtGox isn't the only Bitcoin establishment that's gone down. The exchange was joined this week by "Bitcoin bank" Flexcoin, which told its customers that the theft of $610,000 worth of its e-cash had bankrupted it:
As Flexcoin does not have the resources, assets, or otherwise to come back from this loss, we are closing our doors immediately.
Meanwhile a second cryptocurrency exchange, Poloniex, has copped to losing 10 per cent of its Bitcoins after being hacked, although its chief Tristan D'Agosta – aka Busoni – has promised to pay folks back- just as soon as he can get the cash together. He said:
I would like to thank everyone for their support and understanding. It really means a lot. Having other people's money taken under my watch has made me feel just about as awful as I've ever felt in my life.
Over at Apple, Tim Cook pulled a hilarious gag on Apple's investors, persuading them that he was going to liven up their annual meeting with an off-the-cuff product launch. The Apple CEO was chatting on about how the company was focused on growth and then told the crowd that to prove it he was going to announce some new products right then and there. The audience were thrilled and cheered loudly but the joke was on them. Cook said:
I'm just kidding. I gotta have some fun.
Also at the fruity firm, top bean counter Peter Oppenheimer has announced his retirement after a long service at the Apple altar. The grizzled CFO said:
I love Apple and the people ... [but] for quite some time I have wanted to live on the central coast of California and get more involved at Cal Poly, my alma mater; spend time with my wife and sons; travel to interesting parts of the world; and something I have wanted to do for years - finish the requirements of my pilot's license.
Ex-Microsoftie Steve Ballmer gave a talk at the Oxford University's Saïd Business School this week, his first since stepping down from the top chair, and admitted that his biggest regret from his time at the firm was mucking up that whole shift-to-mobile-computing thing.
Ballmer said:
[Microsoft] would have a stronger position in the phone market today if I could redo, for example, the last 10 years.

The thing I regret is that we didn't put the hardware and software together soon enough. It was almost magical the way the PC came about with an operating system from us and hardware from IBM. There was a little bit of magic, too, for Android and Samsung coming together. But if you really want to bring a vision to market, it is helpful to be able to conceive and deliver the hardware and software.
In this week's snooping news, it has been alleged that CIA officers hacked into the US Senate Intelligence Committee's computers to find out what it knew about its controversial detention and treatment of terror suspects. An unnamed official claimed to the New York Times that:
CIA officers went as far as gaining access to computer networks used by the committee to carry out its investigation.
The Company was apparently taking issue with the committee's upcoming report on the CIA's detention and interrogation programme, which is rumoured to be highly critical of the use of water-boarding and other "techniques" used by spooks to gain information from suspects. The report apparently also claims that CIA officials misled the government about the programme.
A year ago, Senator Mark Udall said that he was aware of an internal CIA document that supported those criticisms and rejected the official line that harsh interrogation worked. This leaked document may be what prompted the agency to snoop on its governmental masters.
Udall said in a letter to President Obama this week:
As you are aware, the CIA has recently taken unprecedented action against the committee in relation to the internal CIA review, and I find these actions to be incredibly troubling for the committee's oversight responsibilities and for our democracy.
But others thought this might be a bit of a case of poetic justice. Christopher Soghoian, principal technologist of the speech, privacy & technology project at the American Civil Liberties Union, tweeted:
If the Senate didn't want the CIA hacking their computer network, perhaps they shouldn't have funded the CIA's offensive cyber capabilities.
And finally, comedian Stephen Colbert was chosen to close out the RSA 2014 conference in San Francisco, where he had a few pointed jibes for the government, the NSA and Edward Snowden. He said that he'd been asked not to speak at the conference because of claims that RSA received $10m from the NSA in exchange for making the agency-backed Dual Elliptic Curve Deterministic Random Bit Generator (Dual EC DRBG) its preferred random number algorithm, thereby providing the spooks with a backdoor. But he decided to do it anyway because:
First, as a freedom lover I don't engage in boycotts; I eat Iranian apricots, smoke Cuban cigars, and snort North Korean meth. I looked at the signatures on the petition and then looked at my signature on the contract for my appearance here so my conscience is clear, as long as the check clears. Although they didn't give me a check but a stash of Bitcoins from MtGox.

But it wouldn't have been fair for me to boycott the conference because, when it comes to companies accused of playing footsie with the NSA there's no room under the table any more because of all the feetsies.
He also said that the NSA showed what an organisation with unlimited budget and no oversight could do - get royally pwned by a 29-year-old with a thumb drive:
He took top secret intelligence to China and then to Russia - was Mordor not accepting asylum requests?
He also said that he reckons Bitcoins are going to be absolutely fine, though they may not be the currency of choice for the apocalypse:
I think Bitcoin is fine. After all, I don't understand gold. Gold never loses its value because it's shiny? When the apocalypse comes I'm not going to be investing in Bitcoin or gold. I'll invest in sheep, potable water, and tradable women. ®
Sponsored: Minds Mastering Machines - Call for papers now open