Northamber grabs ladder, claims PC market burning
Sales singed at UK's oldest distie, profits toast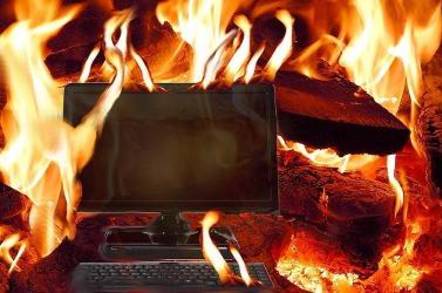 Northamber's colourful chairman is forecasting a "more worthwhile future" - one that is less dependent on tech hardware - but the latest financials still bear the scorch-marks of attempts to put out its burning PC biz.
The UK's oldest tech wholesaler has been rather more quiet since listing on AIM, which means the company no longer needs to report quarterly results to the world that reveal its declining fortunes.
But this morning it unwrapped numbers for the half year to 31 December and it was clear that Santa had again failed to pour some festive spirit over the Chessington industrial estate where Northamber plies its trade.
Sales were down 27 per cent to £30.2m, which David Phillips, Northamber chairman and godfather of tech distribution, said was a reflection of the "demand erosion in our core sector".
Northamber began a process in the last fiscal year to exit empty revenue franchises - selling kit with razor thin margins - and "reduce our historic over-dependency on the increasingly troubled PC market".
"Whilst growing our other non-PC activities, this ongoing process is modifying our business model with the inclusion of less core hardware dependent solutions, and despite the blurring effect of the unavoidable transitional costs, the results are encouraging," said Philips today.
He described the PC industry as "still an overly challenging, declining market".
"The challenges of the IT/Windows Intel sector are being amply demonstrated by the exit in very recent weeks of major a brand vendors, with further over supply and margin pressures," he added.
As revealed by us, Samsung has exited the volume space, preferring instead to produce tabs, Chromebooks and high-end laptops.
UK disties and retailers bought in 6.7 per cent fewer machines in Q4 as 2.9 million boxes were sold into channels, according to figures from Gartner.
On the other hand, Context's distributor sales-out data - a more accurate reflection of the PC hardware that customers are actually buying - showed growth in mobile PCs and a decent spike in desktops.
Northamber's gross margins in the half year "took the brunt of the ongoing demand downturn" coming in at 6.7 per cent versus 7.7 per cent a year ago.
The company said it jettisoned £770k worth of costs in the six months, half of which were related to savings in personnel and "after redundancy payments".
The bottom line picture was also pretty gory: loss before interest and tax came in at £730k, more than double the £328k loss a year ago.
The balance sheet is the strongest asset at Northamber, it continues to carry no debt and had £5.3m in cash as the end of last year.
After being given its marching orders by Cisco, Lenovo, Toshiba, Microsoft, IBM, Fujitsu, and Kingston Technology in recent years, along with some senior staffers, Phillips is belatedly rebuilding the business.
Acting like a volume distributor when the volumes fell off suggested Northamber lacked a credible alternative strategy or business model upon which to carve out a brighter future.
Phillips said the changes the company is making "can be seen as the foundations of a return to a more worthwhile future".
"The start of this calendar year has seen notable improvements and enables confidence that progress is being achieved," said Phillips.
Given the first half-year top line, the run rate for the year is a little over £60m, which is a far cry from the 2001 peak of £299m. ®
Sponsored: Minds Mastering Machines - Call for papers now open