Who loves office space? Dell does: Virtualization to banish workstations from under desks
Engineer, 3D modeller: there's a rack slot waiting for you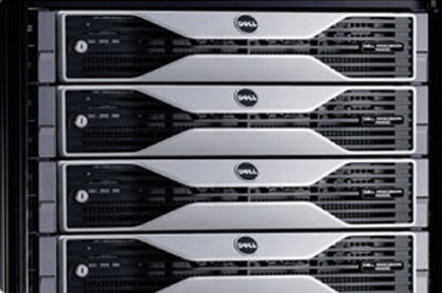 Dell, along with partners Nvidia and Intel, has opened a new center at its Austin, Texas, headquarters to make it easier for customers to deploy virtualized-workstation installations, and for ISVs to certify their software running on such setups.
"We know this all comes down to dollars and cents," Dell's general manager for the Precision Workstation line Andy Rhodes told reporters gathered for the ribbon-cutting of the immodestly named Dell Workstation Virtualization Center for Excellence.
Rhodes wasn't referring to those dollars and cents accruing to his company's bottom line, although that surely is a key Dell goal in operating the center. What he meant was that the center would enable customers to benefit from the time-to-market, efficiency, and collaboration gains enabled by virtualized workstations.
Virtualization has, of course, become commonplace for more traditional PC-centric workloads, but Dell is now betting that the technology and the market are both ready for virtualizing more-demanding workloads such as engineering and manufacturing, media and entertainment, oil and gas exploration and simulation, and economics and financial services.
The Reg has told you about Dell's workstation-virtualization efforts before – specifically the Dell Precision R7610 Rack Workstation, which as its name implies, is intended to live in a server rack in a data center, not under a content-creator or engineer's desk, as do traditional high-octane workstations.
But if a workstation lives in a rack, and is accessed remotely by the worker, what makes it a workstation and not simply a server? Answer: its innards. As Dell's director of workstation product marketing Patrick Kannar told us at the R7610's rollout, it's the combination of the "highest-performance CPUs and highest-performance GPUs available" that enable it to run workstation-class workloads.
Also – and at the core of Wednesday's Dell announcement – a rack of R7610s, or for that matter, garden-variety Dell servers equipped with hefty Nvidia Kepler or AMD FirePro cards – can support virtualized workloads, a capability that when coupled with data center consolidation can offer workgroups a number of benefits.
Security is easier in a locked-down bit barn
Security, for one, Rhodes said. Data centers, with controlled card-access access and stingy IT-admin management, can be made far more secure than a gaggle of under-the-desk, office-resident, standalone workstations. In addition, having all of a workgroup's valuable files in a central location — architectural models, feature films, automotive designs, whatever – can significantly reduce that aforementioned IT admin's anxiety.
Another benefit of workstation virtualization is the ease of collaboration, Rhodes said. For example, if an engineer in the UK wants to share a gigabyte-size model with a colleague in the US, centralized data stores obviate the need to transfer massive files back and forth over the interwebs, a practice that not only loses time but also introduces versioning headaches.
Sponsored: Minds Mastering Machines - Call for papers now open