VCE to offer Whiptail, Nexus 9000 and EMC's ViPR in future vBlocks
Co-opetition won't make co-owners grumpy thanks to delineated 'swim lanes'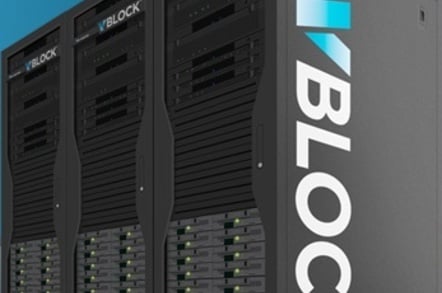 When EMC, VMware and Cisco gestated their converged infrastructure lovechild VCE back in 2011, the three were all great buddies.
Fast forward to 2014 and Cisco and EMC compete in flash arrays. EMC is also suggesting servers might not always be the best place to do computing. VMware and Cisco compete in software-defined networks, quite bitterly according to Cisco folks who've whispered in The Reg's ear. EMC and VMware even overlap in virtual arrays.
But according to Frank Hauck, VCE's president, the overlaps aren't a problem because the three companies set up well-defined "swim lanes" when the company was founded. Hauck appears to be referring to public swimming pools offer designated speeds for slow, medium and rapid swimmers. Folks who stray into an inappropriate lane quickly earn the ire of their fellows, who encourage them to move. Sometimes by letting their elbows or feet stray into the paths of slowpokes.
VCE's version of aquatic etiquette means the three partners always stick to their lanes, Hauck said. That means that even though Cisco now owns flash vendor Whiptail and its server flash is being considered as an addition to the Cisco UCS servers used in VCE's vBlocks, there's no way Whiptail's arrays will become an alternative to the EMC Symmetrix or VNX arrays currently offered. It also means VCE is working on integrating EMC's ViPR software-defined-storage software, but VMware won't get grumpy even though it has its own VSAN.
It also means, Hauck said, that even though VCE plans to offer vBlocks including the Nexus 9000 Series switches Cisco says "provide the foundation of the Cisco Application Centric Infrastructure", the Borg's rival to VMware's NSX network virtualisation tool, there won't be any boardroom hissy fits down VCE way.
"The people who founded VCE were pretty smart," he told The Reg in Sydney today. "They knew there are only so many companies that get hot and that they might be in competition to acquire it."
The arrangements that followed mean VCE's three owners don't get upset if rivals' components appear in a vBlock.
It also means, Hauck said, that there's no need for VCE to create vBlocks that offer every flavour of networking, compute or storage each of its owners dream up. Doing so, he said, introduces more complexity than the company's "x86 mainframe" schtick permits.
Hauck also told a Sydney media event that VCE has topped the $US1bn annual revenue mark in just three years and is "not opportunity-constrained". The company's presences in Australia, Singapore and Japan are being expanded to cope with those non-constrained opportunities. ®
Sponsored: Learn how to transform your data into a strategic asset for your business by using the cloud to accelerate innovation with NetApp