Squidge-droids maker updates iRobot for SUCK, SCRUB action
Mad bot tech boffins enter your bedrooms
'You shouldn't have to touch it'
On this point Angle remarks, "In my view, the robot's mission in life is to disappear, you shouldn't see it, you shouldn't have to touch it. It has been a bane of our existence ever since we launched. What is the point of an autonomous robot if you have go and clean it all the time? So we got rid of it – brushes are now officially obsolete from the perspective of vacuuming."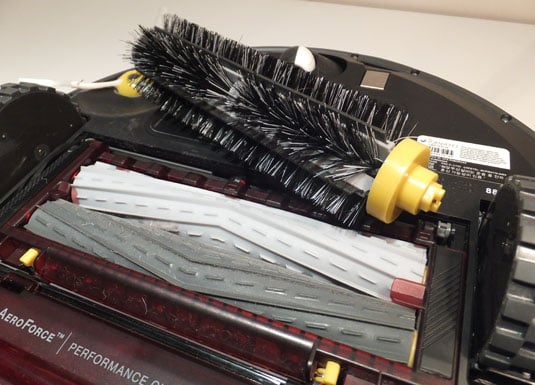 AeroForce Extractors alongside the old-style Roomba bristle brush
If you've used an iRobot Scooba for any length of time, then you might have developed a love-hate relationship with it. Love the clean floor but hate having to clean the Scooba afterwards. It appears that the original Scooba was more about testing the market and this time round it has received a complete makeover, in every sense of the phrase.
As Angle declares, "The robot has been completely redesigned. There is not a piece here that was re-used from the prior robot."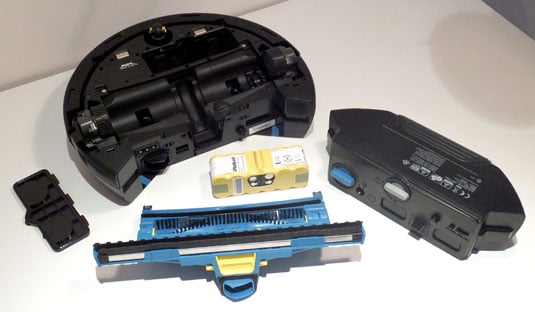 iRobot Scooba 450: much easier to maintain and internally self-rinsing too – click for a larger image
It's not just the new detachable tank for clean and waste water that's more a Roomba dustbin style, or the channelling of the water (or iRobot enzyme enhanced cleaning fluid) within the Scooba that's been simplified, but the approach to cleaning has changed too.
Rather than simply scrubbing away with water, the new Scooba 450 puts down water first and lets it soak in for a while before going through its cleaning and drying cycles. A welcome addition is the auto-rinse cycle that flushes the unit before powering off. All that needs cleaning now is the waste water tank. Battery problems have also been addressed: the 3000mAh 14.4V will sustain for areas of up to 300sq ft (65 sq/m) and will endure for 450-500 cycles.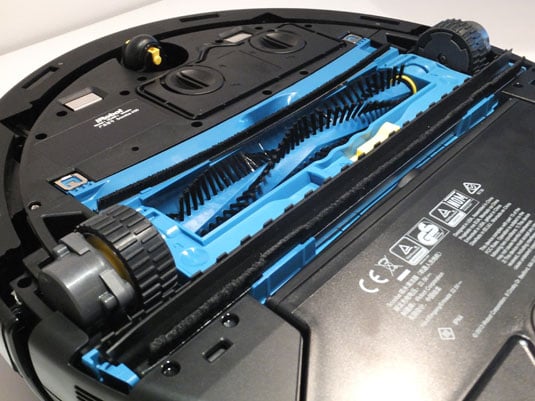 Bristles still have their uses when it comes to scrubbing floors
The original Scooba was a bit of a damp squib given the need for manual cleaning after use and its battery performance, but evidently iRobot has taken notice of these issues, as Angle explains.
"This going to be a major focus for the company, whereas the prior version of the Scooba we didn't put a lot of energy against awareness of the product. We feel like we've got this to a point of efficacy where we want it to be a real second act next to the Roomba."
Available in the UK in the spring, the Scooba 450 costs £599 and the Roomba 880 £649. Whether the Scooba 450 will follow on from the Roomba's success over the competition remains to be seen, but evidently iRobot is expecting to wipe the floor with it. ®
Sponsored: Minds Mastering Machines - Call for papers now open