Vulture wraps claws around Elgato Thunderbolt Drive+ portable SSD
Speedy storage that burns a hole in your pocket
Cross platform
And talking of computers, like its predecessor, the Elgato Thunderbolt Drive+ can be used with both Macs and PCs. It is supplied formatted to HFS+ for Mac users. After a reformat, I also ran tests with Windows 7 on an HP ZBook equipped with Thunderbolt interfacing.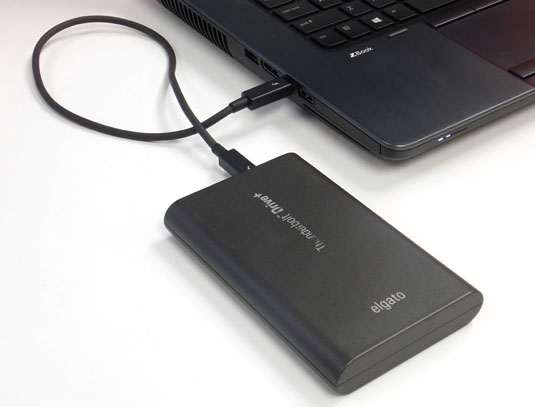 HP's Zbook Mobile Workstation features a Thunderbolt port
Although its software could see the formatted drive on the buss, it wouldn't mount the volume. A new driver on Elgato's web site cured this though, which is just as well, as I had thought it might be USB 3.0 tests only on the PC.
Running the Thunderbolt Drive+ on a Mac was simply plug and play, click and drag. The latter really showing off some impressive speeds as gigabytes of data traversed from one SSD drive to another on a MacBook Pro configured with a Kingston HyperX SSD boot drive.
CrystalDiskMark Results

Thunderbolt (left), USB 3.0 (middle), original 120GB Elgato Thunderbolt drive (right)
Click for a larger image
A CD image was done in the blink of an eye. A 4.7GB DVD ISO in 13 seconds and 28 seconds for a 10GB disc image. Running the same copy test on the HP Zbook took only slightly longer. Two seconds for the CD, 16 seconds for the 4.7GB DVD ISO and 41 seconds for a 10GB disc image.
Tests with a MacBook Pro kitted out with an HDD took about the same time either way copying data to/from the Elgato Thunderbolt Drive+. When transferring a 10GB disc image, it took 2 minutes at close to 100MB/s. Obviously, the 320GB Toshiba MK3265GSX HDD is the bottleneck here.
AS SSD Results

Thunderbolt (left), USB 3.0 (middle), Intel 730 480GB SSD in Elgato TB Drive+ enclosure (right)
Click for a larger image
If you were to use this for video and worked on say, Adobe Premiere on Macs and PCs formatting could become an issue. So to make things even more interesting, I tried out Paragon Software's NTFS for Mac OS X which allows Windows NTFS volumes to be written to from the Mac. By default, OS X can read NTFS volumes, but can't write to them. Paragon's NTFS certainly didn't hamper performance at all, as throughput was almost identical to the HFS+ copy tests, matching the speeds obtained with the Toshiba HDD and Kingston SSD boot drive results.
Case notes
Eventually, curiosity got the better of me and I cracked open the case and nosed around for evidence of anything special. The Plextor PX-512M5Pro SSD seemed to be an off-the-shelf model manufactured in August 2013 and, unsurprisingly, kitted out with the newer Marvell 88SS9187 controller.

Elgato Thunderbolt Drive+ Plextor PX-512M5Pro SSD innards – click for larger image
On the interface board was an Intel DSL2210 Thunderbolt controller. This being a single channel chip explains why there's no daisy chaining capability, as it's designed for endpoint devices. At 0.7W it's the lowest power Intel Thunderbolt controller – taking a quarter of the draw of the 2.8W DSL3510L dual-channel controller that supports daisy chaining – and given its limitations, the DSL2210 is also the cheapest on offer.
That said, there was a marked impact on battery life when testing with the MacBook Pro, even when idle it could easily take an hour off the overall duration and video playing from it cut the time in half. It can get quite warm too, although the Plextor has a modest 0.25W power consumption. Incidentally, I tried the enclosure with the new Intel 730 SSD that El Reg reviewed recently and managed to get similar results in the AS SSD and CrystalDiskMark performance tests for both Thunderbolt and USB 3.0, although given the power consumption of the Intel drive of around 5W, you'd never seriously consider it for portable, host-powered use.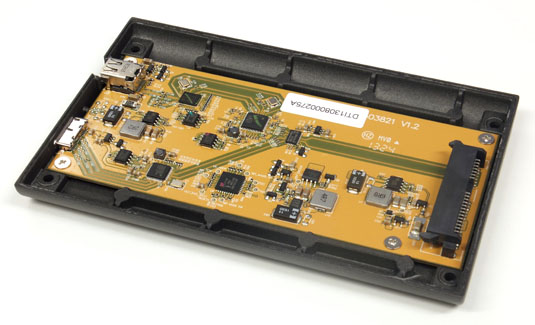 Elgato Thunderbolt Drive+ PCB: the Intel Thunderbolt controller is top left with the green stripe on it
Click for a larger image
So, with off-the-shelf parts from Intel and Plextor and "custom firmware" that apparently comes as standard with the PX-512M5Pro SSD, I'm beginning to wonder where Elgato is spending the money to support its pricing. I still don't think it can be that casing. There seems to be a sliver of glue round the edges and being an SSD, the drive has a fairly unnecessary rubber shock mount covering, but it'll probably keep the dust out too.
No doubt the design of the Thunderbolt/USB 3.0 interface board had some thought go into it, but as I sit here with a GTech G-DRIVE mobile 1TB HDD in front of me, which offers the same interfacing and host powering functionality, I'm wondering if cracking that open would reveal similar components. Sure, there won't be an SSD in there, but at £170 it makes you think.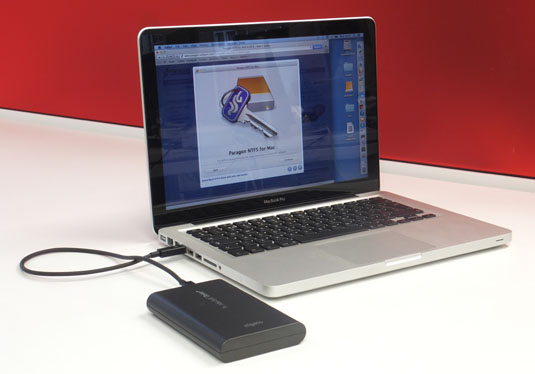 Elgato should bundle Paragon Software's NTFS to maximise its usefulness in mixed environments
The Reg Verdict
Undoubtedly Elgato's Thunderbolt Drive+ delivers fast data transfers all in a robust, portable form factor but it is conspicuously expensive. It's this hefty bottom line that required some persuasion to review it and regardless of Elgato's emphasis on reliability and portability, I'm still not convinced the price is right. ®
Sponsored: Minds Mastering Machines - Call for papers now open

Vulture wraps claws around Elgato Thunderbolt Drive+ portable SSD
Host-powered Thunderbolt and USB 3.0 SSD drive with "server grade" Plextor SSD, custom firmware and an IP64 dustproof casing.
Price:
£430 (256GB), £760 (512GB) RRP