Hey, MoJ, we're not your Buddi: Brit firm abandons 'frustrating' crim-tagging contract
You want this developed from scratch AND all the IP rights?!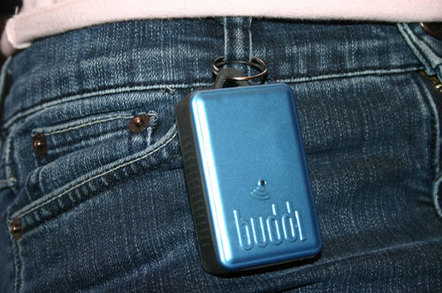 Talks between the UK Ministry of Justice and British firm Buddi for a new system to electronically tag criminals have broken down after Buddi's founder claimed the MoJ wanted a system that was a "figment of their imagination".
Sara Murray, who is a member of business secretary Vince Cable's "entrepreneurs' panel", said in a leaked email to staff that the ministry wanted "the development of a product which does not yet exist".
Buddi said in a statement that it opted out of the contract after the MoJ changed the specifications of its requirements and expected the firm to develop and pay for the new tech and demanded that the firm hand over its intellectual property without any guarantees that it wouldn't be used by other companies.
"The MoJ have been an extraordinary diversion of much of our resources for two years now and this cannot continue, and we are excited for the prospects of the business now we are free of this unproductive and frustrating relationship," Murray wrote.
Buddi was due to do two things for the MoJ: upgrade the tags and replace contractors G4S and Serco, which are under investigation by the Serious Fraud Office for their existing MoJ contracts.
Three other firms, Capita, Astrium and Telefonica were also given the nod back in August to help tag and monitor offenders, after an extensive tendering process.
Existing tagging technology sends a fax to police stations if an offender leaves their home, but the new GPS-capable electronic tags would allow police to constantly monitor the location of offenders. Buddi was hired to provide the software and the tags themselves.
The ministry confirmed that it was no longer working with Buddi and that the two had decided to end their contract earlier this week. However, it claimed that despite the setback, it was still on track to deliver the new system by the end of this year.
"We have been unable to agree on certain technical and commercial aspects of the contract with Buddi to provide tags. We have therefore decided to recompete this element of the contract to ensure we deliver an efficient service that represents best value for hardworking taxpayers while protecting the public.
"Though we are disappointed not to have reached a solution that meets our needs with Buddi on this contract, we remain open to working with them in the future," the MoJ said in a statement.
The project, lauded by the justice secretary Chris Grayling as "the most advanced tagging system in the world", has already been delayed by 14 months.
Two companies, 3M and Steatite, missed out on preferred bidder status when Buddi won its part of the contract in August and are likely to be invited to bid again. Buddi's piece of the £1bn deal is believed to be worth around £300m. ®
Sponsored: Minds Mastering Machines - Call for papers now open