NASA robot plans mid-2020s trip: Europa. Wet, radioactive life forms (hopefully). Bliss
One big step for man, one $15m mission for astroboffins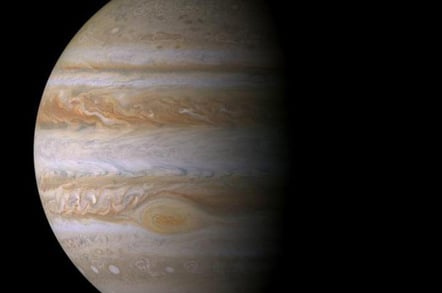 NASA is plotting a mission to send its robotic lander to Europa, one of Jupiter's moons and the place deemed most likely to host life.
The American space agency has reserved $15m of its $17.5bn annual budget to pay for a robotic journey to the icy moon.
"Europa is a very challenging mission operating in a really high radiation environment, and there's lots to do to prepare for it," Nasa's chief financial officer Beth Robinson said. "We're looking for a launch some time in the mid-2020s."
The moon was recently spotted spurting giant columns of water out into space, which strongly suggests that a big wet ocean lurks beneath its icy crust.
NASA has been working on an unmanned craft called The Europa Clipper which can speed through these plumes and gather samples, a process that is far easier than attempting to drill through the ice crust.
It is thought that Jupiter's gravity tugs and pulls the water beneath Europa's ice, generating heat through friction and keeping it from freezing entirely. ®
Sponsored: Minds Mastering Machines - Call for papers now open