Floating mutant, hidden profit: Nimble reveals first post-IPO results
Chin up, hybrid storage firm... they're selling like hot cakes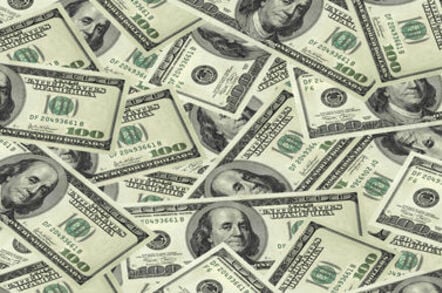 Mutant flash-disk arrays are apparently continuing to disrupt the storage market, judging by hybrid array-slinger Nimble Storage's business in the period to the end of January this year. It recently revealed both the quarter which included its IPO and its full year results.
Hybrid arrays juice cheap disk capacity with a dash of costly flash for speed, and offer array price/performance at less cost than flash but more speed than disk, helped in Nimble's case by ground-up designed CASL software and a cloud-based array monitoring feature.
Nimble's numbers are straightforward: basically revenues rose – a lot – and losses increased, but not so much. In the fourth fiscal quarter revenues were $41.7m, more than double the $20.2m recorded a year ago, with a net loss of -$13.2m; it was -$10.2m a year ago.
Here's a chart showing the quarterly picture: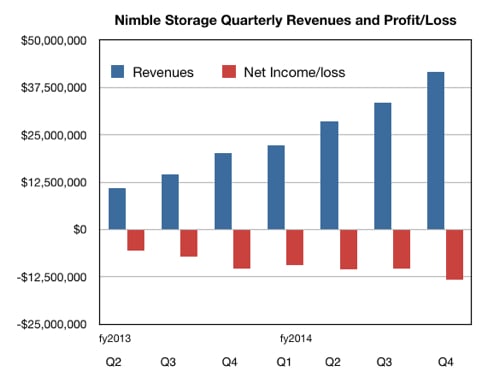 Nimble Storage quarterly revenues and net income.
In the full fiscal 2014 year, revenues rose to $125.7m, over double the $53.8m in fiscal 2013. The net loss was $43.1m while it was $27.9m a year ago. Here's a chart showing Nimble's annual revenues and net loss/profit: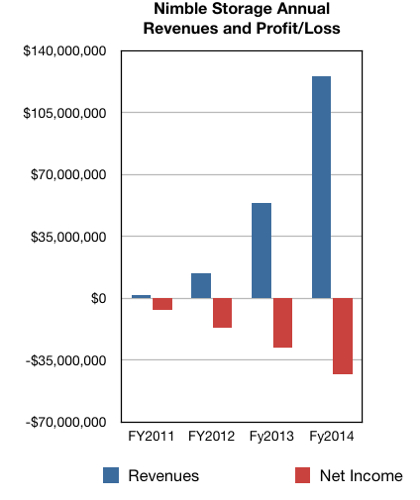 Nimble Storage annual revenues and net income.
The company's revenues are growing fast but it's spending more than it is earning as it builds up its infrastructure. The CEO, Suresh Vasudevan, issued a quote about this: "We ended fiscal 2014 with over 2,600 end-customers and over 900 channel partners, while further expanding our customer base of large enterprise companies and service providers."
Analysts looked benignly on the results. William Blair's Jason Ader wrote: "Nimble's first quarter out of the IPO gate was good, with revenue coming in roughly $4m above the Street target (up 107 per cent year-over-year), while the non-GAAP per-share loss was two cents narrower than the consensus estimate."
He pointed out that "management provided revenue guidance for the first fiscal quarter that was roughly $3m above the Street target at the midpoint and guidance for a non-GAAP loss that was roughly two cents per share better than the Street estimate."
That should keep the post-PO share price high. Unfortunately it didn't; the stock fell to $47.30 from a peak of $55.07 before the earnings release, but maybe that's just short-term profit-taking.
What did the earnings call reveal?
Vasudevan said: "We added a record 527 new end customers during Q4, ending the year with an installed base of 2,645 end customers, an increase of 142 per cent, compared to the 1,095 customers we had a year ago." That's great but can Nimble keep up its roaring rate of progress?
It's aiming to retain its technical advantage edge. Fibre Channel connectivity support is coming late in the year.
Vasudevan said its scale-out software was doing well: "We now have 200 customers that have deployed our Scalar software and we are on target to achieving great sales for Scalar in the very near future. ... It's a software release that will become as part of our architecture and over time it will become part of every software."
Nimble wouldn't say when it expects to make a profit and said growth was its first priority. The current quarter is its seasonally slowest one so we shouldn't expect any fireworks in three months' time. ®
Sponsored: Minds Mastering Machines - Call for papers now open