ROBOCOP statue, Minecraft film, revived Sinclair ZX Spectrum...
Cool stuff crowd-funder Kickstarter cash tops 1 BEEELLION dollars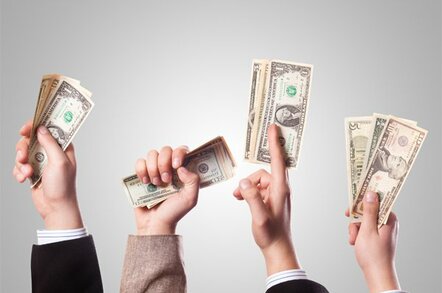 Crowd-funding broker Kickstarter has surpassed the $1bn mark for funding on its projects, which include a RoboCop which just stands there in the cash-strapped Michigan city of Detroit and a calendar featuring cats dressed up as magical creatures.
The company on Monday said that its projects have amassed more than billion dollars, with more than half of those funds flooding into the company over the last 12 months. The $1bn threshold was surpassed at 4:03 AM EST on Monday morning.
According to Kickstarter, the funds to drive its projects have been donated by more than 5.7 million unique users across all seven continents (Kickstarter says that 11 donations totaling $3,707 came from Antarctica.) Total projects on the site start at more than 57,100 and the service has taken in more than 13.7 million total pledges.
"Congrats and thanks to our community, our friends, our families, and to the whole entire internet for making this possible," Kickstarter co-founder Yancey Strickler said in a blog post announcing the milestone.
"You guys are the best."
According to Kickstarter's records, the US is by and large the top source of funds. The $663,316,496 pledged by the 7.75 million American backers accounts for more than half of Kickstarter's intake of funds. The UK was second amongst all countries, as Brits chipped in $54.5m in funds from 319,497 backers. Canada, Australia and Germany rounded out the top five.
Among the projects to surface on Kickstarter include feature films, DIY crafting appliances and even remakes of classic computers. Reg readers have gotten in on the funding bonanza by pitching some of their own unique inventions.
The project leaders are not the only ones who have benefited from the outpouring of funds. Kickstarter itself takes a five per cent cut out of fundraising projects, while Amazon further takes three to five per cent in credit card processing fees on campaigns which reach or surpass their funding goal.
For some users, however, pouring cash into Kickstarter projects has brought a bit more than was bargained for. Last month, the company fell victim to a data breach which resulted in the loss of user account details. No credit card details were believed to have been lost in that attack. ®
Sponsored: Minds Mastering Machines - Call for papers now open