Twitter sags beneath weight of Oscar selfie
El Reg's Hollywood reporter brings you the MILLION-RETWEET goss and glamour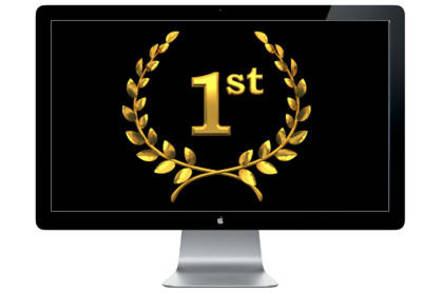 HOLLYWOOD AND CYBERSPACE: The entertainment industry has once again celebrated the world of entertainment, with the annual Academy Awards going even more viral than usual thanks to a selfie of several prominent entertainers that set new records for social sharing.
The selfie in question was taken by entertainer Bradley Cooper (wearing a very handsome tuxedo), probably using a phone in the possession of entertainer Ellen de Generes (wearing quite a nice white suit). The selfie depicts many other prominent entertainers, most wearing nice suits or frocks made by designers who sell clothes that cost more than most people can ever contemplate spending on clobber.
Here's the selfie.
If only Bradley's arm was longer. Best photo ever. #oscars pic.twitter.com/C9U5NOtGap

— Ellen DeGeneres (@TheEllenShow) March 3, 2014
Theories have circulated to the effect that de Generes was paid to arrange and publish the selfie, possibly by Samsung as part of a strategy to use the popularity of Hollywood entertainers as a way of selling more selfie-capable phones. Other theorists have since denied that claim, pointing out other selfies in which de Generes wields an Apple device. The Reg can reveal the Apple device was wearing a metal chassis by Jony Ive.
Whatever the actual device used to capture the "selfie", Twitter reports it is now the most-shared Tweet of all time.
The envelope please….to @TheEllenShow - this is now the most re-tweeted Tweet with over 1 million RTs. Congrats!

— Twitter (@twitter) March 3, 2014
So popular has the Tweet proved, Twitter itself sagged beneath its weight, causing intermittent appearances of its reclusive fail whale (wearing a stunning layer of blubber) during the awards ceremony.
News of matters like military buildup around the Ukraine, and potential for conflict between Western powers (looking indecisive) and Russia (wearing a scowl and righteous indignance), went largely ignored during the awards ceremony. Should a selfie emerge from the Crimea, The Reg will attempt to bring it to Ms de Generes' attention. ®
Sponsored: Minds Mastering Machines - Call for papers now open