Alcatel unveils 'cheaper-than-Chromebook' Lapdock-alike phablet-powered laptop
Hero 'smartbook' is actually a dumb (smartphone-powered) terminal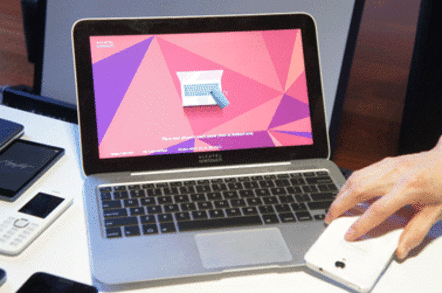 MWC 2014 Alcatel had the distinction of previewing the least powerful device at MWC. At the mobile extravaganza, the French firm unveiled the prototype of the Hero, a dumb terminal which interfaces to its Hero mobile phone to provide a full screen and keyboard.
The device is called a smartbook, but all the smarts actually reside in the handset. There is an NFC-alike technology which pairs the device to the phone and from then on the unit is a terminal to the Alcatel Hero phone.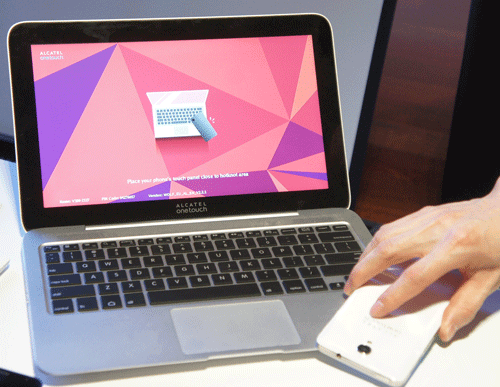 The idea is that the phone acts like a hub, not unlike the Phonebloks idea which Motorola touted before being bought by Lenovo, as well as its prior flirtation with IXI. The big difference is that you can actually buy the Hero phablet - at least if you try hard enough, a bit of searching and the only sources seem to be overseas mail-order, but that is still a long way on from Motorola's concepts.
The "smartbook" – which rather incongruously is neither smart nor a book – is still a concept, but the Hero is not, it's a 6-inch phondleslab, based on a 1.5GHz quad core Mediatek MT6589. What makes it particularly interesting is the vast array of accessories Alcatel has for the Hero. The device has a bus on the back and onto this you can clip one of a variety of covers. It has an LED clock, e-ink for reading without sapping power, a separate e-ink reader, a pico projector and even a bluetooth handset with a traditional bell keypad.
Alcatel Mobile Phones was once a joint venture between French firm Alcatel-Lucent and Chinese multinational TCL Communication, but the brand was later bought out entirely by TCL. AMP is unusual in that it's a phone brand which also looks after its own manufacturing - rather than outsourcing. As a result the brand now produces a bewildering range of phones in sizes ranging from a tiny 2.8 inches to 5.5-inchers – in pretty much half-inch steps – and with a wide choice of colours across two model ranges called Pop and Idol. The Pop phones are cheaper and broadly like Samsungs, the Idols are more akin to iPhones but both are far enough away to avoid any litigation.
The Hero is interesting because it shows some innovation, and sensibly all the devices either take their power from the host fondleslab or use micro-USB charging. No price has been announced for the smartbook, but Alcatel assures us it will be very entry level - cheaper than a Chromebook. ®
Sponsored: Minds Mastering Machines - Call for papers now open