Flying fondleslab causes injury after plane hits turbulence
Australian Transport Safety Bureau stupidly warns gadgets 'can become projectiles'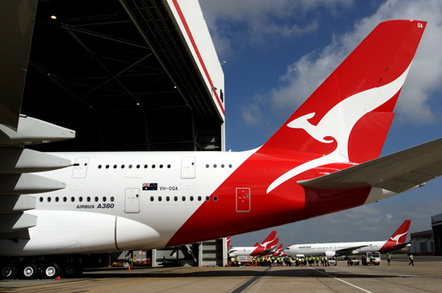 Hot on the heels of news that Australian wasps can ground a plane comes another cautionary tale from the Australian Transport Safety Bureau (ATSB), this time concerning the perils of flying laptop computers and iPads.
The two devices fell from an overhead bin during turbulence last November. The ATSB's report on the incident says a 767 making an approach to Sydney twice aborted its attempted landing.
"During the climb of the go-around, the aircraft experienced more turbulence," the report continues, "and one passenger sustained a serious head injury from a laptop computer that fell from an overhead locker. Another received a rib injury and a third was injured by an iPad."
The report does not say if the third person sustained an iInjury.
The ATSB has used the incident to issue sage advice to the following effect:
"This incident is a timely reminder for passengers to stow all carry-on baggage (including laptops and iPads) securely in the overhead lockers or under the seat in front of them, especially when the seatbelt sign is turned on. These items can become projectiles during turbulence if not properly secured."
Which is all very well save for the fact the items in question fell from overhead bins. As far as Vulture South knows, there's no app for opening overhead bins and no way to prevent anything falling from an overhead bin. That points to a problem with the plane, not the computers. Throw in the fact that the plane in question was a Qantas 767 with the registration VH-OGU, a craft Aussieairliners.org reports was acquired, new, in 1998, and it seems there's been plenty of time for the odd overhead bin latch to get a little loose.
In light of the ATSB's somewhat useless advice, perhaps we should all be thankful that there wasn't a blade server in the overhead locker. Those things are sharp! ®
Sponsored: Minds Mastering Machines - Call for papers now open