Fanbois sent into FITS of RAGE by fake Steve Jobs statue competition
Cupertino omertà provoked tidal wave of incredulous wrath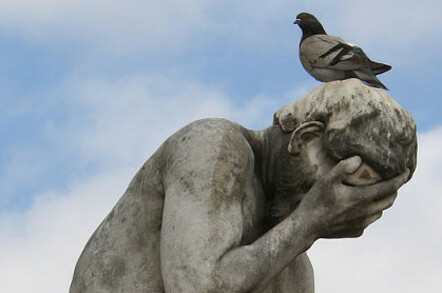 Fanbois around the world were sent into an incandescent rage this week by news that a hideously ugly statue of Steve Jobs was set to stand outside Cupertino.
But The Register has learned that Apple has no intention of erecting the mildly phallic structure near its headquarters.
In fact, some of our friends within the fruity firm think a mysterious prankster has subjected fanbois to a cruel hoax.
Our sources told us design guru Jony Ive was bewildered by claims he had chosen the statue from 10,000 entrants. Keen to show the world that Apple's taste meant they would never commission such an awful piece of art, he immediately got on the phone to Apple's British tentacle and asked them to set the record straight.
A Serbian sculptor called Dragan Radenovic was supposed to have won a commission to build a statue commemorating the late Steve Jobs.
But an Apple mole told us there was no competition in the first place.
That's not what the sculptor told us though.
He insisted that a conversation with Ive had actually taken place.
In an email to The Reg, which we've left unedited, he said: "I did designed and created the sculpture of Steve Jobs.
"I participated in competition for Steve Jobs sculpture. I found out about this competition through my colleague sculptors who took in the same competition.
"Mr. Ive from Apple company talked to me on the phone about business details concerning the fact that they chose my work and want to use it for the purpose of the company.
"Now my question to you is: whom did you speak to and where did you get the information that it can be a joke? I fear I could have been tricked."
If Apple are telling the truth - and there's no reason to suggest they're not - then everyone involved has been tricked.
Perhaps the reason all those gullible media types fell for the scam (mentioning no names, eh? - Vulture Central's backroom gremlins) is perhaps due to Apple themselves, whose reticent PR team operates with all the transparency of the NSA. They barely answer calls, let alone confirm or deny stories.
Reg legend suggests that Steve Jobs specifically told his minions to stop talking to us after one of our vultures mocked his hairdo.
So, Apple, there's a lesson here for you: it's time to open us and show the outside world some love. And we promise not to associate you with such an appalling sculpture ever again. ®
Sponsored: Minds Mastering Machines - Call for papers now open