Apple investors fall for CEO Cook's product-presentation prank
In other news: Apple TV sales topped $1bn last year, Cook shows his feisty side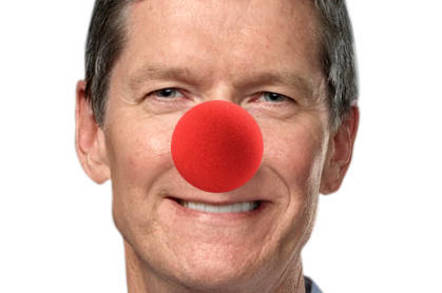 Apple's annual investor meetings are tightly scripted, dull-as-dishwater affairs crammed with performance metrics and vague allusions to future glories, so perhaps CEO Tim Cook thought it wise to channel his inner funnyman and add a wee bit of wackiness to Friday's proceedings.
In his prepared remarks, he told attendees that his minions are focussed on growth, and that to prove it he was going to announce some new products, right then, right there.
"A pregnant pause hung in the air," The Wall Street Journal reports. "The audience, accustomed to Apple unveiling new products at carefully orchestrated events, gasped and cheered."
But no, the moneymen filling the auditorium were not about to be treated to a scoop. "I'm just kidding," Cook said, deflating the room. "I gotta have some fun."
Humor: not something that should be left to amateurs. Investors: not a group to be made to feel like fools.
Aside from that bit of frivolity, however, Cook did provide some news during the orchestrated event: the Apple TV – deemed a Cupertinian "hobby" both by Steve Jobs and by Cook – had a good year in fiscal 2013, adding more than $1bn to Apple's revenue stream.
But don't divide $1bn by the Apple TV's $99 price and assume that Cook & Co. moved 10,101,010 of the li'l black boxes during the year – that dollar amount includes both hardware and programming purchased through the device, the WSJ reports.
The Apple TV news may have made it into Cook's presentation because he wanted to raise awareness of the 1080p streamer, seeing as how Apple began a promo for the device on Friday that bundles a $25 iTunes gift card with the Apple TV when purchased at either the company's brick and mortar or online stores through March 5 – the device is widely expected to get a refresh soon, so moving out existing stock would be helpful.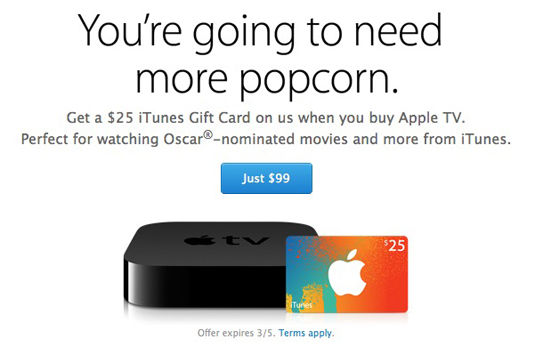 We didn't know that Apple sold popcorn on its iTunes store, but then again we don't visit it that often
But those attendees who expected solid information rather than vague promises about future products went away disappointed. Apple's commitment to its long-standing custom of not pre-announcing its offerings will continue, Cook said, because he doesn't want to tip his hand to competitors since Apple is "getting ripped off left, right, and sideways."
All he would say is that "there is a ton of stuff going on," that some of it is "extensions of what we're already doing," and there are also products being developed that are "things that you can't see."
Cook also showed a bit of his feistier side when discussing working conditions in the sweatshops factories of some of Apple's overseas suppliers, which have been targets of criticism. "I don't think there is any CEO who talks about human rights more than I do," ABC News reports he told investors. "I get a lot of spears for it, but I don't give a crap."
To those investors who are concerned solely with return on investment [ROI] and not with labor, environmental, or human-rights concerns, Cook was blunt. "If you want me to make decisions on ROI only," he said, "you should get out of the stock."
That last comment riled the conservative think tank, The National Center for Public Policy Research, sufficiently for it to immediately fire off an angry 1,200-word press release entitled, "Tim Cook to Apple Investors: Drop Dead". ®
Sponsored: Minds Mastering Machines - Call for papers now open