Inquietante testimonio gráfico: Electrosonda orgásmica anal aplicada… ¡a un TORO!
Nuestro fotógrafo sufre pesadillas - Lo mismo puede ocurrirle a usted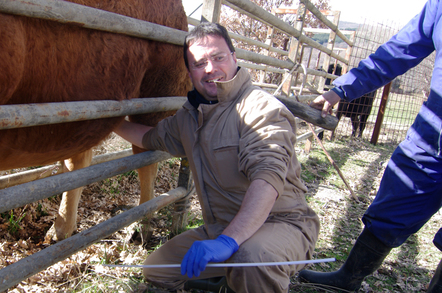 NSFW [Author's note: Since publication of the English-language version of this eye-watering report last week, I've had a few locals moaning that while the snaps were certainly entertaining, they couldn't understand the text.
Well, they can stop their whining, because thanks to the translating skills of my old mate and Paper Aircraft Released Into Space (PARIS) veteran José María Pita Macías, they too - and indeed the entire Spanish-speaking world - can now enjoy the full-fat bull oyster experience.]
Para regocijo de aquellos lectores que ya están hartos de internet, este agradable viernes de febrero nos complace presentarles un testimonio gráfico, con imágenes subjetivas de gran crudeza, que pueden herir algunas sensibilidades.
Si alguna vez se ha preguntado –cosa que sin duda habrá hecho–, como se ordeña a un toro y por qué diablos habría que hacer eso en este planeta azul, ha llegado el momento de presentarle la verdad en todo su esplendor.
Antes que nada, permítanme que les presente al veterinario local Rubén Prieto Moreno, de Clínica Veterinaria Gredos, quien se ocupa habitualmente de atender a mis burros zamoranos y a la jauría de perros que, cuando Rubén llega cada año a suministrar su dosis de antirrábica, se escapan rápidamente al monte.
Rubén hizo la carrera en la Universidad Complutense de Madrid y ya lleva más de once años incordiando a los pobres animales por los alrededores de El Barco de Ávila. A principios de semana me comentó que le habían encargado hacer pruebas de fertilidad a un toro limusino antes de mandarle (al toro, no a él) a disfrutar de su harén, así que decidí acompañarle para ver cómo se hacía.
Quedamos temprano con Vicente y Demetrio, los ganaderos, y también con el becario Israel que está tratando de adquirir alguna experiencia para sacarle partido a sus cinco años de estudios universitarios.
Los instrumentos de tortura dan miedo, con un eyaculador electrónico de 12V y una sonda extractora en estilo retro Flash Gordon que componen un kit verdaderamente impresionante. Llamo su atención sobre la conexión XLR de la sonda, para los que exijan algún contenido técnico en este reportaje...
Lo primero que hicieron Demetrio y Vicente fue acorralar al animal...
...entonces Israel tuvo la mala suerte de sacar el palito corto y le tocó acometer el trabajo que, sin duda, debe figurar a la cabeza del ranking de los más sucios del mundo: remover y limpiar de excrementos la retaguardia del animal. "Es un trabajo sucio, pero alguien tiene que hacerlo", admitió.
En serio, chaval, personalmente prefiero que seas tú el que lo haga. Llegados a este punto, el toro lo miraba todo impresionado...
...pero un masaje en los testículos le hizo pensar a la criatura que todo aquel sufrimiento podía tener un final feliz:
Sin embargo, ese ligero toqueteo fue en realidad el preludio a la inserción de un raspador en la uretra para obtener muestras de las secreciones genitales (esmegma).
La muestra se etiqueta y se manda al laboratorio para confirmar o descartar la presencia del parásito protozoario Tritrichomonas foetus y de la bacteria Campylobacter fetus.
Tras todo este juego erótico preliminar, el pobre Israel se dispone a introducir el eyaculador por el ano del animal:
Rubén pone en marcha el orgasmatron...
...y, acto seguido, toma posición para recoger las muestras de semen::
Las muestras se guardan en un tubo dentro de un recipiente lleno de agua a 36°C. Esto sirve para preservar el esperma si hace frío, explica Rubén.
En esta ocasión, el toro no estaba en su mejor momento y eyaculó 1cc...
...aunque Rubén me aseguró que era cantidad más que suficiente para el test. Ya solo queda pegar la muestra en un recipiente térmico que la va enfriando gradualmente antes de su refrigeración y envío al laboratorio.
Los resultados del test demostraron que el toro está en condiciones y se puede dedicar a la faena.
Mi agradecimiento a todos los involucrados por permitirme captar estas imágenes íntimas de un proceso que ha resultado muy revelador, sorprendente y hasta emotivo. ®
Nota final
Si alguien quiere disfrutar de imágenes más explícitas de un toro eyaculando, le sugerimos que eche un vistazo a este video de Rubén, nada recomendable a menos que usted sea veterinario o le haya preguntado específicamente su jefe sobre técnicas de laboratorio para obtener muestras de esperma bovino.
Sponsored: Minds Mastering Machines - Call for papers now open