Anti Gmail data-mining lawsuit hits possible stumbling block
Email content skimming claims may not qualify as class action, says Judge Lucy Koh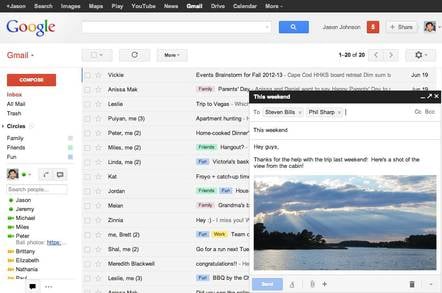 A US judge has thrown a bit of a spanner in the works of a lawsuit brought against Google for allegedly improperly mining data from emails for profit.
Judge Lucy Koh said in a hearing yesterday that the suit may be tough to pursue as a class action case, which allows plaintiffs to sue in a group and gives them a shot at a much larger settlement, Reuters reported.
The suit alleges that Google broke several laws, including federal anti-wiretapping legislation, by skimming sent and received emails it was fielding through its Google Apps for Education service "for multiple undisclosed purposes and for profit".
"Through Google Apps for Education, Google contracts with educational organisations throughout the United States to service email accounts for students, faculty, staff, alumni and members of these organisations. Google services these Google Apps EDU accounts with Gmail," the original complaint states.
"In contrast to regular Gmail users, however, Google does not serve targeted content-based advertising to Google Apps EDU users. Google nonetheless extracts the content and meaning from Plaintiffs' sent and received email messages and uses that content for various purposes and for profit."
The first complainants want to pursue the case as a class action representing not just Gmail users, but also non-Gmail users whose incoming emails were skimmed. The non-Gmail users are potentially crucial to the case since their inability to consent to Google's practices is part of the reason the case is going ahead.
Google has argued that the identity of any non-Gmail users can only be found out if someone goes through all the non-Gmail users whose addresses are on file in its systems and then sifts through the responses - a Sisyphean task that would be totally unworkable.
Koh has yet to issue a formal ruling on whether the case can move forward as a class action suit. ®
Sponsored: Minds Mastering Machines - Call for papers now open