Google coughs up $6.8m for FREE BUSING for San Francisco youth
Not on Google's fancy buses, mind you. On the ordinary kind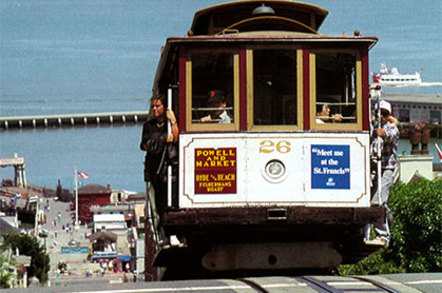 Google, which has drawn criticism in San Francisco for using public bus stops to pick up passengers for its private employee buses, will donate $6.8m to fund a program that offers low-income youth free rides on the city's Muni public transport system.
The Free Muni for Low Income Youth program is open to youth ages 5 through 17 whose families earn less than the median income for the San Francisco Bay Area (which varies with the size of the family). Participants are granted a free electronic bus pass that grants unlimited rides on the city's buses, streetcars, trains, and iconic cable cars.
Ordinarily, a similar youth pass would cost $23 per month, while the comparable adult pass runs $66 per month.
The program was launched a year ago and so far has been paid for with city funds, with $6.6m earmarked for the first 16 months. An estimated 22,000 San Franciscans had signed up for the program by the time it launched in March 2013.
"With this unprecedented gift from Google," San Francisco Mayor Ed Lee said in a statement, "we can keep this successful pilot program running for at least two more years at no cost to taxpayers or Muni riders and free up critical funds for other vital Muni maintenance and services."
According to San Francisco schools superintendent Richard Carranza, "well over half" of the city's 56,000 public school students could qualify for the program, which was launched partly in response to the San Francisco school district's decision to reduce the use of traditional yellow school buses.
Muni has also found that residents who use public transport as youth are likely to keep using it, and 45 per cent of Free Muni for Low Income Youth participants say they plan to use the service as adults.
While Google's gift earned universal praise from city officials, however, Supervisor Scott Weiner cautioned that even such a large donation won't be the end of the matter.
"Now, we need to make sure that when the two-year program ends, we have sustainable long-term funding identified so that Muni's operating budget isn't impacted in the future," Weiner said. "We have two years to achieve that goal." ®
Sponsored: Minds Mastering Machines - Call for papers now open