Official FACT: Gadgets are giving YOU a wrinkly 'Tech Neck'
Quick, fanbois! Put on a turtleneck! Oh wait, you have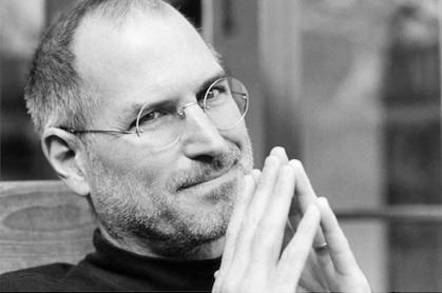 Packed full of pornography, malware and overpriced iStuff, the world of technology is a scary place.
Now be prepared to face the latest threat of the modern age: a wrinkly neck.
As more and more people spend their days bent double and fondling their slab, their neck turns from a pristine place of beauty into a wrinkled wasteland.
This terrifying new scourge has been dubbed "tech neck" and could affect anyone unfortunate enough to own a modern gizmo.
Dean Nathanson is the managing director of CACI international, a firm that specialises in "non-surgical beauty solutions".
He said there were risks in "keeping one's head down" - and he's not talking about gonorrhoea.
Bending the head causes a very specific wrinkle in the neck which, judging by these pictures, will be terrifying to the super-vain, but pretty much invisible to the average ugly bloke.
"We're a hard working nation and our hectic everyday lives mean that keeping one's head down, be it buried in work emails or in an e-reader, is completely the norm," he warned readers of the Daily Mail.
You'll never believe it, but his business has a way to combat er, neck wrinkles "tech neck" – a gizmo it has been flogging for years, which it is more than happy to give you in exchange for some Great British pounds...
"Recently we noticed a surge in enquiries for our product, specifically to combat lines around the neck area.
"We've identified a correlation between the rise of technology in recent years and the growth of the 'Techneck', so while there is little chance of the nation giving up technology, at least we can help people reduce wrinkles and keep their chin up."
If you can't afford a CACI product (no pun intended), never fear. Salvation from tech neck might simply come from putting down your fondleslab, leaving your desk chair and enjoying your life. (Although you'd better not read any books.)
Or perhaps you can just buy a scarf...
Josh Catlett, chartered physiotherapist, told the paper: "Our bodies are not designed to be in the same position for long periods and many people also get into bad postures when using these devices.
"As a result, physiotherapists are seeing patients with neck, back and shoulder problems and also pain in the hands and wrists.
"It is important that people recognise the need to take regular breaks from using such devices and also to consider their posture at all times." ®
Sponsored: Minds Mastering Machines - Call for papers now open