NASA could have averted near DROWNING TERROR in SPACE
ISS 'naut Luca Parmitano's spacesuit had the same fault a week earlier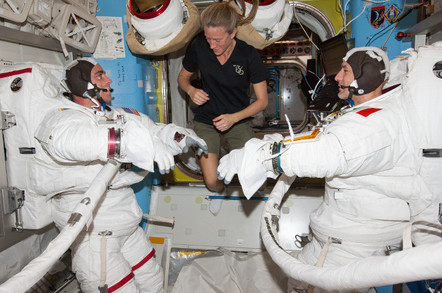 NASA could have prevented the near-drowning of International Space Station 'naut Luca Parmitano last summer, an investigation panel has decided.
The European Space Agency astronaut almost drowned when the helmet of his spacesuit started filling with water during a spacewalk in July. Parmitano managed to navigate his way back inside the station despite only being able to see a few centimetres in front of him through the water and being unable to communicate with the rest of the ISS crew. An estimated 1.5 litres of water filled Parmitano's helmet, stopping him from hearing or speaking and forcing him to rely on his safety tether to guide him back to the airlock.
An investigation panel reported that the same suit had already leaked one week earlier at the end of Parmitano's first spacewalk, but the space station team onboard and on the ground had misdiagnosed the problem as a leak from the water drink bag.
NASA's chief space station engineer Chris Hansen told the media that the first leak had not been "properly investigated, which could have prevented placing a crew member at risk a week later".
Officials still aren't sure exactly what caused the accident. They know that some sort of inorganic contaminants clogged several small holes that prevented water from flowing properly through the Fan Pump Separator - part of the suit's cooling system - causing it to back up and flow into the air system and the helmet. But the source of the contamination has yet to be determined.
The report said that this type of failure had never been seen before, so the NASA team – made up of engineering, operations, safety and crew – "did not know or understand that an event such as this could occur".
Because of that, they almost ended up with another accident the following day. While using a vacuum cleaner to dry out the spacesuit, the crew accidentally sucked oxygen out of a tank, making a "hazardous mix of electricity and pure O2" that could have started a fire aboard the station.
The investigation panel made a number of recommendations to remedy the situation, many of which are already complete or in progress, Hansen said.
According to the panel, Luca Parmitano's calm demeanour in a terrifying situation was possibly what saved his life. Parmitano blogged about the experience after returning to Earth, concluding that space was still "a harsh, inhospitable frontier and we are explorers, not colonisers". ®
Sponsored: Minds Mastering Machines - Call for papers now open