Hey, Apple. THIS is how you flog iPhones in new markets
Saving the planet and turning profit, one old mobe at a time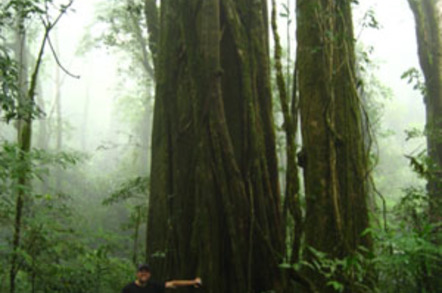 MWC 2014 Last year mobile phone trade-in firm eRecyclingCorps announced that they had recycled 10 million phones in the past four years. This year they said they'd chewed through the same 10 mill in the last year alone.
It would be nice to think that people recycle old phones out of a love for the planet, but the company has found avarice a much more powerful driver. Customers don't recycle, they trade in.
When eRecyclingCorps tried putting envelopes in the boxes of new phones only one per cent of people used them. With shops offering trade-ins against new phones they are aiming for 50 per cent.
Around 95 per cent of the phones which are traded in are sold on for re-use, with the remaining five per cent being recycled. This might be because there is a list of phones they will take. It's a long list of 4,000 phones, but many of the cheaper handsets are not eligible.
The company concentrates on higher end phones – 80 per cent of their take comprises smartphones, which makes their processing worthwhile. Phones are wiped – using tools that are more thorough than a factory reset – refurbished to varying levels of finish and often reflashed with new software or language packs to reflect the country to which it is being sold.
For many countries – although India is the example always cited – the iPhone is hugely aspirational. Despite the Indian middle class being greater in number than that of Europe, the cost of iPhones is often beyond their means. Previously owned phones are a way in.
Kelly Carnago from eRecyclingCorps was careful not to criticise Apple but gave the impression that Cupertino is on a learning curve with recycling, and is starting to appreciate that it's a way to take on Samsung in some markets.
The vast majority of phones come to eRecyclingCorps through operators' shops running recycling programmes with cash incentives for trade-ins. In the US this mostly happens through Sprint and Verizon.
One interesting trend is that people are hanging onto phones for longer. Carnago attributes this to both a lack of innovation and lengthening contracts. A recycled phone is typically 22 to 24 months old. Phones which come into eRecyclingCorps have their IMEI tracked, either in the shop which takes it in or through the refurbishment process. Phones that have been registered as stolen are rejected. If they make it as far as eRecyclingCorps' Kansas HQ the phone will be quarantined and payment to the operator clawed back. It's then up to the operator to take it up with their customer.
At previous years there have been a lot of green initiatives at Mobile World Congress. There's a lot less of that this year, but it is good to see that some green shoots remain.
Sponsored: Minds Mastering Machines - Call for papers now open