WhatsApp no threat to BBM: Blackberry bod says pretender's buyout will HELP ailing firm
He who pays silly money enriches us all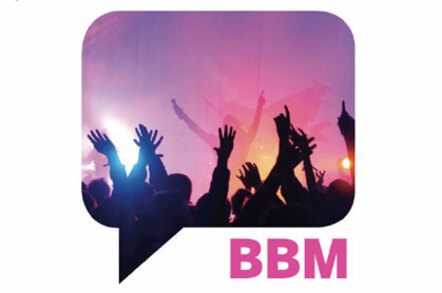 MWC 2014 You could forgive BlackBerry for being grumpy after Facebook acquired WhatsApp for $16bn. After all, WhatsApp is a very obvious knock-off of BlackBerry's BBM. But for years BlackBerry kept BBM locked inside BlackBerry phones - and only last year opened it up as a real cross platform OTT messaging app.
Did BlackBerry kick itself to sleep at night?
"The timing was never easy," admits David Proulx, senior director of BBM. "But from the relations we've struck it's clear that the game is far from over".
Telcos were unusually vocal this week in their criticism of Facebook, having woken up to a threat we've talked about for a long time - so this is more than just bluster.
Other OTT messaging services show "little permanence", says Proulx, while BBM is incredibly sticky. If people use it, they really use. it. 65 per cent of monthly active BBM customers across all services - from enterprise down to consumers - use it every day.
Last year BlackBerry opened up BBM and raced to 50m downloads - we understand around 80m active users in all. Then it went quiet. This week, however, it shot out a range of updates. BBM has done VoIP over BBM since December 2012. Now anyone can do voice over BBM. It's coming to Windows Phone and was demonstrated on Nokiadroids this week.
Meanwhile enterprise users get another layer of encryption – and super-secure chats run alongside regular chats in the same window. BBM works securely across domains too, so employees at a supplier, for example, can chat securely with employees at their buyer. That's something IT departments will appreciate. But… well, you can spot the "but". Most work-based chatting is done via a desktop PC. BlackBerry has not yet released a desktop BBM client - even though it's teased at its existence so far. And no advance on that here.
"Everything BBM is mobile-first, we solve that use case first" said Proulx.
So what does WhatsApp mean?
"Frankly, they created a clear objective, delivered on that, and were very handsomely rewarded for it," he thinks. And it's good for BBM, as more people can now realise what BBM does - and the imperative of 'Stop Zuckerberg!' is also more apparent.
"For anyone in mobile, any influx of capital of that volume, any exist, buoys the value of what we're all doing. It also sets potential outcomes in motion", he hinted. "You can contrast WhatsApp with BBM which is private and secure - and now even more secure - and see that we've carved out and defended a unique position"
So why don't we hear telcos whinging about BBM - even though you've been doing doing OTT voice for a couple of years?
"We built our business delivering innovative data services through telcos, we've been doing that for ten years. WhatsApp built theirs with the stated objective of eliminating or disintermediating SMS. That's a very different raison d'etre to ours".
Channels will also get more love and attention. Currently, setting up a Channel is trivially easy - but you can't then take an RSS feed and pipe it into a BBM channel. That essential integration with publishing CMS will come. BBM says Channel publishers are pleased with the success - there's a stronger affinity than on other social networks.
Even with its new owner pushing Skype, Nokia will preload BBM on Windows Phone this year, we learned - a sign of how important BBM is to people in markets in which Nokia wants to shift a few phones. ®
Sponsored: Minds Mastering Machines - Call for papers now open