HTC One grabs BEST SMARTPHONE gong
Ooh, Apple... Best Tab. Has anyone told, um, 'Mike Wozniak'?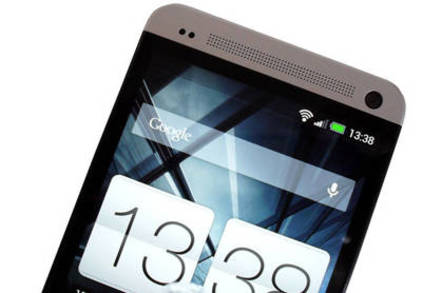 MWC 2014 The GSM Association (GSMA) announced the 19th Annual Global Mobile awards at its Mobile World Congress now underway in Barcelona, and the award for Best smartphone didn't go to an offering by either of the two market leaders – Apple and Samsung – but instead to a company that's been facing some challenges of late: HTC won for its HTC One.
Not that Apple was locked out of the limelight entirely: its iPad Air was honoured as Best Mobile Tablet. Sammy? Didn't even make it to the awards podium despite the fact that the awards saw a host of new categories, bringing the number of the event's honorees to 32. Other gadgetary notables included the Nokia Lumia 520 as Best Low Cost Smartphone and Nokia 105 as Best Entry Level or Featurephone.
Not only did the category list swell for 2014, the number of submissions did as well: there were 680 of them. And you can be sure that charging up to €500 to enter had nothing to do with canvassing so many entries and extending the application deadline. Although 32 categories with four or five entrants in each makes for lots of dull reading-out of names, having 160 finalists did help fill the room.
To liven up the annual proceedings, GSMA regularly employs a performer – although one who is probably only thinking of the cheque. This year it was James Corden, comprehensively described by the GSMA as "British actor, writer, presenter and comedian," who observed that it was the most male-dominated audience he'd ever seen.
Corden brightened considerably, however, when Tony Blair's wife Cherie picked up the award for Best Mobile Product, Initiative or Service in Emerging Markets which was won by Vodafone Foundation in India, the Self Employed Women's Association (SEWA) and the Cherie Blair Foundation for Women (CBFW) for RUDI Sandesha Vyavhar (RSV) project.
For much of the time, however, Corden floundered with an unresponsive crowd. Asking for a round of applause to remember Steve Jobs from a room full of operators and handset manufacturers who have seen Apple suck their businesses out from under them was probably not a good idea. Nor was trying to look like he knew what he was talking about and referring to the "Apple Founder's best friend Mike Wozniak."
One surprise – and one that showed how much MWC has changed – was that the GSMA Chairman's Award went to Paul Jacobs, CEO and Chairman of the Board of Qualcomm. It's not that long ago that the GSMA worked almost as hard at undermining Qualcomm's CDMA technology as Qualcomm did to persuade Americans that GSM was an evil French technology.
The GSMA must be the only organisation that sees itself as powerful enough to honour governments with awards. Trophies had been dished out at an earlier event to the UAE, Spain, Lebanon and Botswana. There was also a first-ever lifetime achievement award to the former head of the GSMA, which seems more than a little self-congratulatory.
As the categories dragged on, it all became a bit of a treadmill. Best Solution for Growing Smaller or Independent Networks going to Reach-U for Demograft, for example, wasn't going to impress anyone except the winners.
Things picked up a bit when the event reached Outstanding LTE Contribution, won by SK Telecom and KT Corporation. The executive picking up the award for SK Telecom said that the reason he didn't get Corden's jokes was partly because he was jet-lagged by his flight from South Korea, but mainly because he had a PhD and Corden didn't. Corden's response to being dissed was to wait until the SK chap was off stage, then to ask the audience if seconds later anyone remembered who he was.
This would have worked if the same person hadn't won the next award, the Outstanding Overall Mobile Technology: The CTO's Choice.
You can find a full list of who won what here. ®