Samsung brandishes quad-core Galaxy S5, hopes nobody wants high specs
Fitness, fashion, cases, that's what matters...
Better than splashproof, not actually waterproof. Plunge-proof?
Icons on the screen are Sir-Jony-Ive flat and there is a good feel to the user interface. Judging by a quick hands-on, the Android 4.4.2-powered gadget felt really rather snappy, and that's down to its 2.5GHz ARM-compatible quad-core Qualcomm Snapdragon 801 system-on-a-chip processor. It's clearly using the Samsung Touchwiz interface, too.
The big emphasis on fitness means that in addition to the supplied exercise encouragement app, the handset is ruggedized to the IP67 spec, which means its casing is better than splash-proof but it's not absolutely waterproof: IP67 means it's dust tight, and can withstand 30 minutes under one metre of water. Thus, it will survive an accidental dunk but don't go swimming with it. More practically, you can use it as a music player in a steam-filled bathroom or go snowboarding with it.
There is extra security with the latest Knox container technology installed. A "kids mode" can be enabled with one click, which turns the phone into a child-friendly device by only allowing designated apps to run, and locks the device's controls away from prying spry fingers.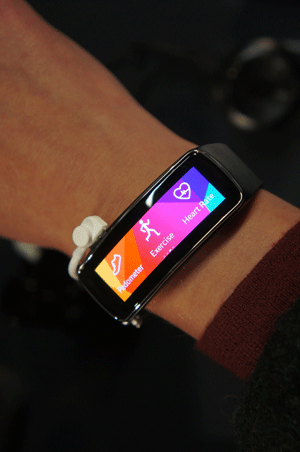 The Gear Fit wrist-puter
The fingerprint scanner can be used to unlock files, typically photos and videos kept in a special secure area – ideal for your most intimate snaps. Something everyone will appreciate is the ultra-power-saving mode, which has a time-left-before-power-off countdown, and which will keep the phone alive for 24 hours in standby mode with only 10 per cent of battery life left. The battery itself is a 2,800mAh part.
The Galaxy S5 measures 142.0 x 72.5 x 8.1mm, and weighs 145g, we're told. The HD AMOLED touchscreen's resolution is 1920 x 1080 pixels, it has a pixel density of 432 ppi, and it's 5.1 inches across. There's 2GB of RAM inside, 16GB or 32GB of internal flash storage depending on the model you buy, a microSD slot that will take cards up to 64GB in capacity, NFC radio, a USB 3.0 port, and Bluetooth 4.0 Low Energy wireless connectivity. But, essentially, it's taller and heavier than the Galaxy S4.
Alongside the phone, Samsung announced three new watches. The Gear 2, the Gear 2 Neo and the more-like-a-wriststrap Gear Fit. Perhaps the most interesting is the 27g Fit which has the first curved, super AMEOLED touchscreen in a wearable device. The straps come in three colors and there will be designer versions from posh fashion houses.
Samsung is keen to court app makers and will soon release a software development kit for the smartwatches.

5,000 people, all of whom want to be first to try the new Galaxy S-phone
The S5 will ship on April 11 in 150 countries; you have to admit that Samsung's logistics are impressive. One number which does bear repeating is the size of the audience: 5,000 peeps sat in the auditorium with some people having to stand. ®
Sponsored: Minds Mastering Machines - Call for papers now open