Samsung brandishes quad-core Galaxy S5, hopes nobody wants high specs
Fitness, fashion, cases, that's what matters...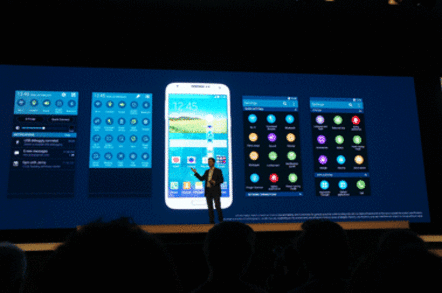 MWC 2014 Samsung has announced its new Qualcomm-powered Galaxy S5 smartphone, focussing on how fashionable and fitness-friendly the thing is rather than waste time revealing specifications during its glitzy launch.
Luckily, we got our hands on the device and a spec sheet so we can tell you how the mobe measures up.
In your correspondent's experience, alarm bells should ring when a mobile phone manufacturer tells you how much it has listened to Joe and Josephine Public, and how great the finish of a product is, without backing up the proposition with numbers on the spot.
It was like being given a menu that read "delicious food, lots of vitamins, very well cooked," without telling you what you're getting.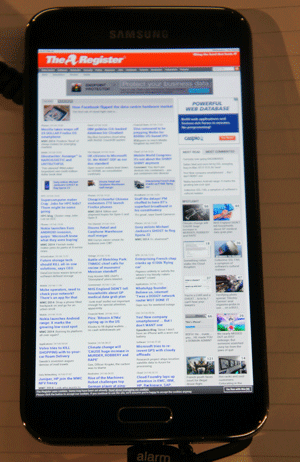 The Samsung Galaxy S5
There is a reason for this, in your humble hack's opinion: the S5 is not a soaraway market-beating product. Don't get me wrong, it is very, very nice, but I got the impression Samsung wanted assembled hacks to look beyond facts and figures for this reason. Samsung should be worried.
Speaking at the launch of the handset at Mobile World Congress 2014 in Barcelona on Monday, Sammy marketing exec David Park and JK Shin, head of the chaebol's IT and mobile communication division, talked up the S5's built-in camera, the gadget's fashion sense, how it lets one grab control of one's life, and so on.
This is not a phone for slobs: it has a perforated back and in addition to the mainstay black and white cases, it also comes in blue and copper, no doubt selected by a market research agency. And it comes with lots of fitness stuff. There is a heart-rate monitor built into the back of the phone that you put your finger on to measure your pulse, and there's a fingerprint scanner on the front.
After claiming people don't buy things for the technology under the hood, Shin revealed the connectivity: it supports LTE Cat-4 mobile broadband and Wi-Fi 802.11ac wireless networking with one really impressive feature: the "download booster." This bonds the Wi-Fi and LTE connection to maximize the downlink bandwidth, which apparently can go as high as 650Mbit/s as a result of the coupling.
Download booster is a spot-on name because while it will provide fabulous download speeds, the latency stinks, as you'd expect from an LTE/Wi-Fi bonded connection, so it's no good for smooth web browsing nor online gaming, for example.
The impressive camera tech works like a human eye, and (when pushed for an answer) Samsung said the rear-facing sensor is a 16-megapixel part; there's a 2Mp cam on the front. This falls short of Sony's 20.7Mp and way short of Nokia's 41Mp top-end mobe cameras. Of course, raw resolution isn't everything and the super fast – 0.3 second – autofocus in the S5 may be more useful to punters. The special effects that can be applied to pictures are not as rich as those Sony announced 12 hours earlier, but you can apply a fashionable background blur.
Sponsored: Minds Mastering Machines - Call for papers now open