iOS 7: Even if you don't jailbreak your iPhone, bugs STILL CREEP IN
Oh, and that SSL bugfix last week? Old news, my boy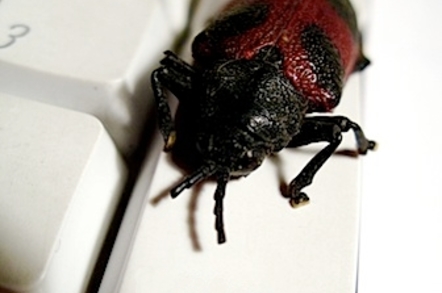 The comforting notion that unmodified iOS phones are more or less immune to security threats has been shaken to the core with the release of new research that shows mobile monitoring applications can bypass Apple's app review process and successfully exploit non-jailbroken iOS 7 kit.
Background monitoring mobile (AKA snooping) apps were previously considered a risk only to jailbroken iOS devices. However, security researchers at FireEye have discovered that it's possible to effectively circumvent Apple's app review process and exploit non-jailbroken iOS 7 devices.
Potential attackers can either use phishing to mislead the victim into installing a malicious app or exploit a known vulnerability in another app before running a background monitoring app. FireEye created such a proof-of-concept "monitoring" app on non-jailbroken iOS 7.0.x devices to underline its concerns.
This app was capable of recording all the user touch/press events from the background – including touches on the screen, home button press, volume button press and TouchID press – before phoning home with this sensitive information to a remote server. "Potential attackers can use such information to reconstruct every character the victim inputs," FireEye warned.
The demo exploits the latest 7.0.4 version of iOS system on a non-jailbroken iPhone 5S devices. Users running iOS versions 7.0.5, 7.0.6 and 6.1.x are also at risk from the same vulnerability.
The research from FireEye, released on Monday, covers similar ground to separate research into touchloggers (touchscreen keylogging malware) by TrustWave, also unveiled at this week's RSA conference in San Francisco. Trustwave's research involved the creation of proof of concept malware for rooted Android and jailbroken iOS devices but didn't look into the risk on non-jailbroken iOS devices, the focus of FireEye's research.
FireEye is working with Apple on resolving the issue. In the meantime it reckons the only way for iOS users to avoid the security risk is to use the iOS task manager to stop the apps from running in the background.
More details on FireEye's research can be found in a blog post here.
Last week Apple released patches for iOS 6 and iOS 7 (6.1.6 and 7.0.6 respectively) to fix a vuln which allowed a man-in-the-middle attack against SSL and TLS-encrypted sessions. ®