Future storage tech should KILL all-in-one solutions, says CEO
DataCore boss waxes lyrical on software-defined storage
Will you be cheeky enough to take a bite at EMC?
El Reg: How would you compare and contrast DataCore's technology with EMC's ScaleIO?
George Teixeira: We see ourselves as a much more comprehensive solution. We are a complete storage architecture. I think the better question is how will EMC differentiate its ScaleIO offerings from VMware VSAN solutions?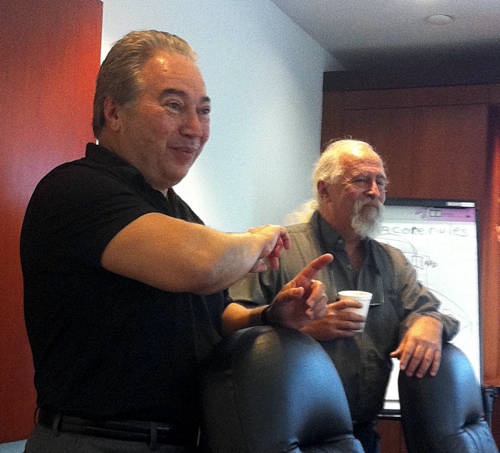 George Teixeira (left) and DataCore chairman Ziya Aral.
George Teixeira: Both are trying to address the server-side storage issues using flash technology, but again why have different software and separate islands or silos of management, one for the VMware world, one for the Microsoft Hyper-V world, one for the physical storage world, one for the SAN?
This looks like a divide and complicate approach when consolidation, automation and common management across all these worlds are the real answers for productivity. That is the DataCore approach. Instead, this silo approach of many offerings appears to be driven by the commercial requirements of EMC versus the real needs of the marketplace.
El Reg: Does DataCore envisage using an appliance model to deliver its software?
George Teixeira: Do we envisage an appliance delivery model? Yes, in fact, it already exists. We work with Fujitsu, Dell and a number of system builders to package integrated software/hardware bundles. We are rolling out the new Fujitsu DataCore SVA storage virtualization appliance platform within Europe this quarter.
We also have the DataCore appliance builder program in place targeting the system builder community and have a number of partners including Synnex Hyve Solutions which provides virtual storage appliances using Dell, HP or Supermicro Appliances Powered by DataCore and Fusion-io.
El Reg: How will DataCore take advantage of flash in servers used as storage memory? I'm thinking of the SanDisk/SMART ULLtraDIMM used in IBM's X6 server and Micron's coming NVDIMM technology.
George Teixeira: We are already positioned to do so. New hybrid NVDIMM type technology is appealing. It sits closer to the CPU and promises flash speeds without some of the negatives. But it is just one of the many innovations yet to come.
Technology will continue to blur the line between memory and disk technologies going forward, especially in the race for faster application response times by getting closer to the CPU and central RAM.
Unlike others who will have to do a lot of hard coding, and suffer the delays and reversals of naivety trying to keep up with new innovations, DataCore learned from experience and designed early on software to rapidly absorb new technology and make it work. Bring on these types of innovations; we are ready to make the most of them.
El Reg: Does DataCore believe object storage technology could be a worthwhile addition to its feature set?
George Teixeira: Is object storage worthwhile? Yes, we are investing R&D and building out our OpenStack capabilities as part of our object storage strategy; other interfaces and standards are also underway. It is part of our software-defined storage platform, but it makes no sense to bet simply on the talk in the marketplace and on these emerging strategies exclusively.
The vast bulk of the marketplace is file and block storage capabilities and that is where we are primarily focused this year. Storage technology advances and evolves, but not necessarily in the way we direct it to, therefore object storage is one of the possibilities for the future along with much more relevant, near term advances that customers can benefit from today.
El Reg: DataCore had a terrific year in 2013, breaking the 10,000 customer site number. It's a solidly successful supplier with a technology architecture that's enabled it and its customers to take advantage of industry standard server advances and storage architecture changes gracefully. 2014 should be no different with DataCore being stronger still by the end of it. ®
Sponsored: Learn how to transform your data into a strategic asset for your business by using the cloud to accelerate innovation with NetApp