We nearly MISSED OUT on iOS7 redesign: But someone snatched Jony Ive from the jaws of quit
Day-glo culprit unmasked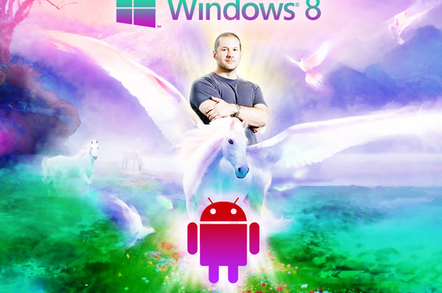 Apple design chief Jony Ive almost quit his industrial design course, it has been revealed, meaning that in a parallel universe Apple iStuff would have looked a bit less... like this.
In an interview with The Telegraph, designer Tom Karen revealed that Ive's father had approached him with a dilemma about his errant young son.
"He said, my son Jonathan's at university in Newcastle and is thinking about giving up his industrial design course," Karen said. "Maybe you could revive his interest?"
Ive Junior was duly dispatched to Ogle Design, where Karen was chief designer and CEO. The firm has a long established design pedigree and was responsible for the iconic Raleigh Chopper bike, as well as other famous designs like the Reliant Robin.
"The outcome was that Jonathan stuck to industrial design and made a huge success of it," Karen added.
The rest is history, with Ive going on to found his own design consultancy, Tangerine, before joining Apple in 1992 and working his way up to senior vice president of industrial design under Steve Jobs.
All manner of iStuff soon followed, with the iPod, iPhone and iPad coming in quick succession. Ive was knighted in 2012 and is now is one of the three most famous people to come from Chingford, along with David Beckham and Norman Tebbit. Exalted company, we're sure you'll agree.
Ironically, designer Karen also told Design Week that making products was a tough way to earn a crust.
"Product design is a hard way to make money," he said. "Graphics, packaging, perhaps corporate identities and interior design seem easier."
We'll leave it up to you to say what that means for Ive's work at Apple. ®
Sponsored: Minds Mastering Machines - Call for papers now open