Hot racks and cool customers: Colocating in the capital
Where diesel, data and dark fibre meet
Thermal protection
A few years ago, City Lifeline upgraded its generators, something its customers would have definitely noticed. It was a challenge of a different order, as Walsh explains.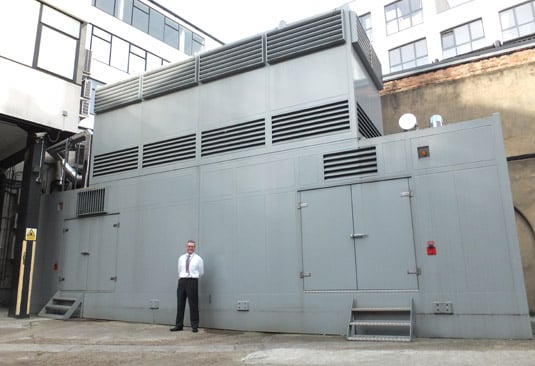 Roger Keenan puts the size of the generator installation into perspective
"From outside, it's a pretty tight road and the task involved transferring the old generators out and bringing the new generators in with temporary generators on site all the while. You plan it, you have the necessary equipment in place, the personnel in place and hope that on the day everything does fall into place."
He adds: "At the end of the day, you've always got to rely on people. You only need one person to ring in sick and it has a knock-on effect. Once you've met with that problem, it's how you address it and move forward. In this instance, it all went according to plan and on time and we were running fluently on power which was our objective."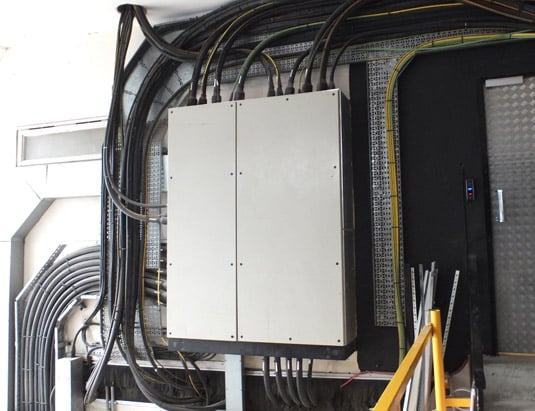 Power distribution panels
Planning for the big stuff is one thing but often problems occur in hidden areas that can take some time to get to a critical stage. At City Lifeline the company runs through an annual test of its electrical distribution systems using thermal imaging cameras from Testo. To the trained eye, failing components can be detected from the heat profile they produce and replaced before they break down completely.
"It's quite a big exercise," says Keenan. "There are hundreds of panels and distribution boards in this building and it means somebody has to go through every single one, take all the covers off, check them with a thermal imaging camera and then put all the covers back on again. It's not something you can do in an afternoon; it involves two electricians spending a week doing that."
While electrical distribution gets the once over every year, the communications side of City Life is continually evolving. These days Walsh grapples with Fujikura fibre optic splicers more than Cat5 crimping. "It's delicate," he says "You need steady hands. Stripping it and getting it clean before it goes into the machine is the hard part. Six years ago it was just all coax. Now, a lot more are going over to fibre."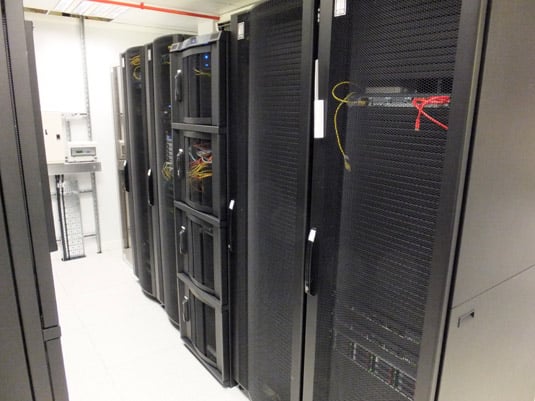 Economies of scale: quarter racks colocate with full size racks
Keenan observes the thinking behind this transition. "Fibre isn't as difficult as it used to be and it's not that much more expensive. Put a fibre in, then you can say, if I ever need to go to 10Gb/s I can do that. Cat6 you can do 1Gb/s; Cat5, generally you wouldn't go to more than 100Mb/s. For the voice people, 100Mb/s is all right – that's 1,000 simultaneous phone calls. But for those who want expansion capacity, they would put fibre in to start with."
Trend spotting
So what else is new? With years of experience running a central London colocation data centre, Roger Keenan must have noticed some trends.
"What's happened in the past 10 years is that the space requirements have gone down, but the power requirements have gone up. Generally, everybody's experienced that. Ten years ago, typically what we sold was a 4 amp rack. Then it went from an average of being a 4 amp racks to an 8 amp rack with some 4 amp racks in it. Then it went to being an average of a 16 amp rack with some 8 amp racks – and we stopped making 4 amp racks all together.
"And that's the way the world has gone and it may continue to do that, except that there's a whole trend away from Intel chips towards ARM-based servers. If that trend moves – and I've every reason to believe it will, it's a very good thing – you can envisage a situation where somebody, instead of building something with two Intel processors in it, builds something with six ARM-based processors in it. And it's just as powerful and consumes a quarter of the electrical power… and you can see that coming. That will take us back in the same direction, so that we'll end up needing more space, than power. These balances change all the time."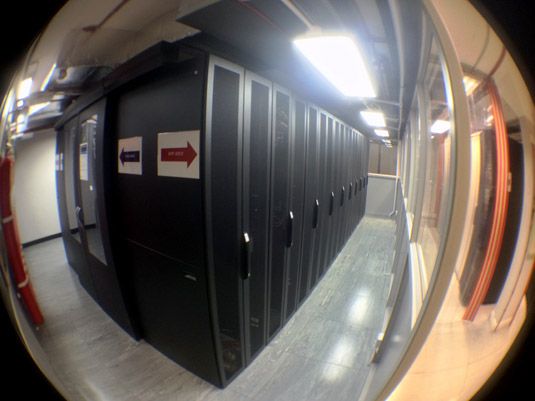 Could a mix of Intel and ARM servers give a new meaning to hot aisle, cold aisle in future?
Backtracking a bit, he adds, "Actually, it never really happens like that. Once there's the opportunity to use more computing power, and it becomes available, people will start to use it. The demand for computing power will never go down, it keeps going up."
It's a fair point but given the need to balance energy costs and computing power, perhaps we'll see hot aisle, cold aisle configurations of a different nature – with Intel and ARM servers co-existing in colocation data centres. ®
Sponsored: Minds Mastering Machines - Call for papers now open