Elon Musk ADMITS he met Apple: iCar 'great idea', keeps schtum on Tesla hookup
'Leccy car-builder's shares rise as profit-free firm posts results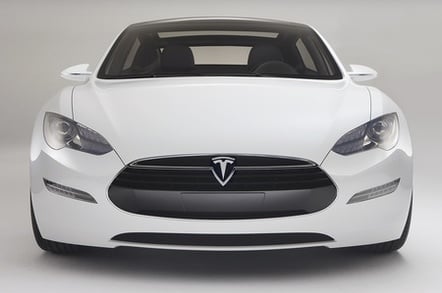 Tesla CEO Elon Musk has admitted holding a tête-à-tête with Apple - but has refused to disclose the exact nature of the discussions.
Rumours have been swirling about a possible hook-up between the fruity firm and the electric car manufacturer.
Although Musk confirmed that he had held talks with Apple, he gave no indication about whether Cupertino wanted to buy up Tesla - which would tacitly confirm speculation that Tim Cook is planning to build an iCar.
"We had conversations with Apple. I can't comment on whether those revolved around any kind of acquisition," Musk told Bloomberg.
When pushed, Musk said he thought developing an iCar would be a "great idea" for the fruity firm.
Musk's comments came after his firm announced better than expected results which saw its share price shoot up by 11.8 per cent to $216.41 on Wednesday.
Tesla predicted it would ship 55 per cent more of its Model S electric sedan this year than in 2013. The firm expects to flog some 35,000 cars this year.
In the last quarter Tesla sold 6,900 cars whilst managing to hit its 25 per cent gross margin target.
Tesla posted a net loss of $74m from revenues of $2bn last year. In Q4 it made a net loss of $16m, a relatively healthy increase compared to the previous quarter's $38m loss and a promising end to the year compared with 2012's $89m loss in Q4.
After announcing the encouraging results, a buoyant Musk then said he would use the share surge to raise funds for a "gigafactory" to produce the lithium ion cells his cars depend on; a move which would totally eliminate Tesla's dependence on other producers. ®
Sponsored: Minds Mastering Machines - Call for papers now open