HP rides data center growth out of sludgy IT market
Whitman's turnaround takes hold, but layoffs hover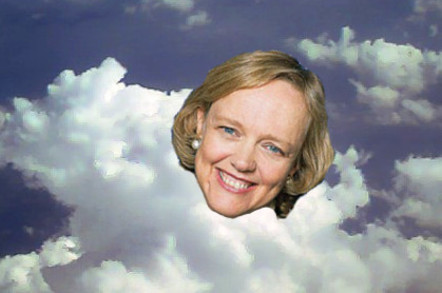 HP has reported better than expected financial results on the back of strong server sales and – unexpectedly – good performance in the struggling PC market.
The IT company reported an earnings-per-share of $0.90 and a net revenue of $28.2 billion on Thursday for its first fiscal quarter results, beating analyst expectations of $27.19bn and $0.84, respectively.
"HP is in a stronger position today than we've been in quite some time," HP chief executive Meg Whitman said in a canned statement. "The progress we're making is reflected in growth across several parts of our portfolio, the growing strength of our balance sheet, and the strong support we're receiving from customers and channel partners."
These results are a further indication that a painful, layoff-heavy turnaround instituted by Whitman is beginning to work, and follow two encouraging previous quarters.
On a division-by-division basis, HP bucked wider trends in the IT market by managing to grow its PC group Personal Systems by four percent to $8.53bn compared to the same quarter a year ago – this represents the first growth in seven quarters for the beleagured division.
"The PC market contraction is slowing and we are seeing signs of stabilization," said Whitman during a call discussing the results.
HP also minted gold from its data center hardware group by growing revenues one percent to $6.99bn, up from $6.94bn a year ago, with industry standard servers climbing 6 per cent, despite the rise of cut-price gear from Asian manufacturers such as Quanta, Wiwynn, Foxconn, and others.
The one problem in this segment is that as HP carves out growth in what it terms "hyperscale providers" – large data center operators – its pricing comes under pressure, lowering margins. "We are still seeing a very competiive pricing environment in [the Enterprise Group]," Whitman said.
It was this pressure on margins that caused IBM to sell its server business to Lenovo last month. HP thinks this gives it a short-term opportunity to take share while punters steer clear of System x gear as the changeover takes place.
"I think we have a near-term opportunity here to gain share in our server business – we're all over it, we're all over it with our channel partners," Whitman said on the call. "We aim to be well set up by the time the deal is set up to compete really aggressively [with Lenovo]."
As usual, its non-x86 Itanium-based "Business Critical Systems" continued to decline, with that sub-section of the Enterprise Group falling 25 per cent.
Enterprise Services saw a major decline of 7 per cent, along with software which shrank 4 per cent, and HP financial services, which fell 9 per cent, and Print was down 2.2 per cent to $5.81bn.
These results proved mildly encouraging to the market, with HP shares trading up 1.5 per cent in after-hours trading.
However, HP's recovery has come at a cost – the company is in the process of laying off 34,000 workers to help it deal with the sagging PC market, slow spending in the public sector, and downward pricing pressure in its enterprise group.
Though we're sure the champagne corks are popping in Palo Alto tonight, some HP workers are likely to be staring rather glumly into their drinks as Whitman's (profitable) scythe hovers above them.
HP expects to turn in an EPS of $0.85 to $0.89 in the next quarter, it said in a canned statement. ®
Sponsored: Minds Mastering Machines - Call for papers now open