Alca-Lu joins race to make telco networks more cloudy
Proprietary doors open just a little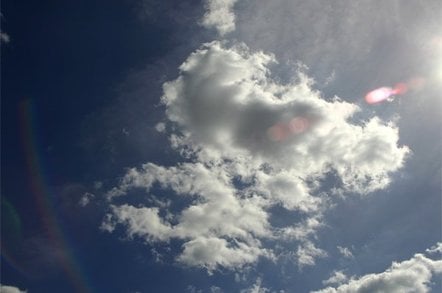 Alcatel-Lucent has joined the growing list of telco vendors bowing to the inevitable and giving their kit a more cloudy flavour.
The company has announced new versions of a slew of its mobile portfolio that break the nexus between the hardware that ships bits around and the software that controls it. It's a bowing to the inevitable: if vendors like Alca-Lu don't embrace Network Function Virtualisation (NFV), it'll be done for them by others.
So a variety of functions – packet core, IP Multimedia Subsystem (IMS) and radio access network (RAN) – will get unleashed from the hardware and set free to frolic on general-purpose cloud (or, more precisely, data centre) servers.
Speaking to The Register, Alcatel-Lucent market strategy executive Manish Gulyani said "We feel that the appetite for virtualising the mobile network is high with the industry moving towards LTE. They want faster, more responsive networks with better scaling capacity."
The move towards LTE (and its underlying Evolved Packet Core, EPC) is also important to vendors and carriers wanting to "cloudify" the mobile network.
"The EPC has computation functions, signalling functions, policy functions – all stuff that can move onto the server platform, with 10G bps Ethernet to move that around the network," Gulyani said.
The biggest design decision, he said, is working out which functions have to remain on dedicated hardware, and which float into the cloud: "Can I run this software on a common server to do things like packet processing?" he offered by way of example.
At the base station, for example, the air interface has to stay where it is: you can't move the antenna, transmitter or receiver into the cloud. Once that traffic has hit ground level, so to speak, it's just packets travelling over Ethernet – and so long as you can get enough performance out of the cloud servers, there's no reason to leave processing at the base station.
That's what makes NFV attractive to operators, Gulyani said: they pay less for the computational power needed to run packet processing, network operations and service management, and since there's only one control system to configure, new services can be created quickly.
"If the stuff is sitting in a data centre, the carrier can be a lot more responsive. You don't have to wait 12-18 months to create a new service," he said.
The components of the NFV portfolio are:
A virtualised Evolved Packet Core (vEPC), handling subscriber and service authentication and management;
A virtualised IMS (vIMS) solution, for service delivery.
A virtualised radio access network suite, covering 3G Radio Network Controller (RNC) and virtualised proof-of-concept for LTE and LTE-Advanced Radio Access Networks.
Risk for vendors
The virtualisation of what used to be secret sauce running on proprietary hardware poses a clear and present danger to telco vendors' value no matter what happens. If they don't open their software up to the cloud, it'll be done for them by others.
Rather than have their market stolen, then, telco vendors have break down the hardware-software nexus without destroying their own value.
"This transformation is going to happen," Gulyani said. "Eighty per cent of our R&D is in software, and we have to monetise it." The job in front of vendors like Alcatel-Lucent is to get its customers to understand the value of that software.
"If a carrier wants to create a bespoke service for its enterprise customers, it's easier to do in the virtualised environment. They can just turn up a new instance of a cloud application. That means we'd be selling more software into those carriers, to enable those services.
"The first step is to be able to separate your software from your hardware, and get people to understand the value in that software," he said.
"There will still be underlying IP and transport platforms – the very high capacity 100 Gbps IP and optical systems, the DSL and PON-based access platforms. Those signal processing chipsets won't be moving into a cloud-based platform just yet."
Another major effort in turning the telco network into a cloud environment, Gulyani said, is how to make APIs into OSS platforms. "Today's OSSs are used to talking to fairly specific devices."
"Being able to take anybody's server, in the cloud, to manage the application – that's the standardisation that needs to happen," he concluded. ®
Sponsored: Minds Mastering Machines - Call for papers now open