HP busts out new ProLiant rack mount based on Intel's new top o' line server chippery
How does six terabytes of memory in a 4U rack grab you?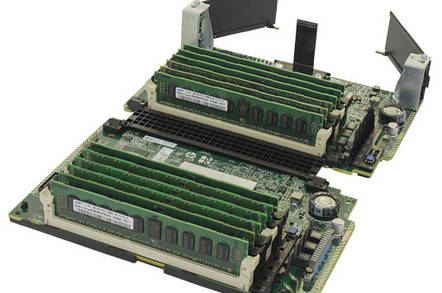 HP has released a new member of its "scale-up" line of rack-mount servers, the ProLiant DL580 Gen8, powered by Intel's new Xeon E7 v2 server chips, and said that "enhancements" for the ProLiant DL560 and BL660c Gen8 scale-up x86 servers will be revealed next month.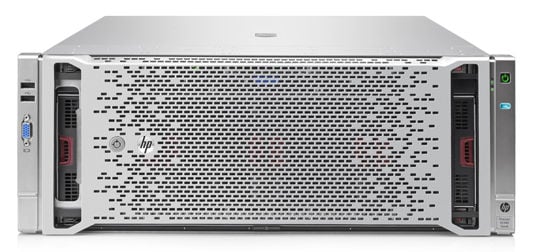 HP ProLiant DL580 Generation 8 (Gen8) rack-mounted 'scale-up' server (click to enlarge)
"Intel has some really good things," HP's server-group VP of global marketing Jim Ganthier told The Reg at the rollout event for Intel's new server chips in San Francisco on Tuesday. "But what separates HP from everybody else in this room is that we tend to innovate on top of industry architectures."
As an example of what he identifies as HP's innovation, Ganthier showed us the new server's rather prosaically named Memory Cartridge, one of eight such memory modules in the HP ProLiant DL580 Gen8 server. The module – about the size of a smallish hardbound book – holds a dozen DIMMs; the one he showed us was equipped with 32GB DIMMs, but 64GB DIMMs will "eventually" be an option, he said.
We'll do the math for you: with 32GB sticks, eight of these modules contain 96 DIMM slots adding up to 3.072TB of memory; 64GB sticks will double that [Obviously – Ed.] to 6.144TB. Needless to say, with the increasing use of in-memory computing to boost system performance, having 6TB in a single rack-mounted server will be a nice chunk of memory to play around in – if you can afford it, of course.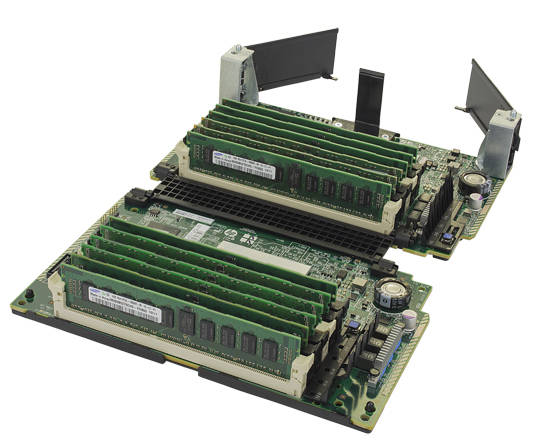 One of the ProLiant DL580 Gen8's eight Memory Cartridges, unfolded to reveal its innards (click to enlarge)
These 96 slots are 32 more than in the previous generation – without changing the server's 4U form factor, by the way – but Ganthier said that the total system power draw is less than before, in part due to power-supply efficiency being raised from 92 per cent to 94 per cent.
Another example of innovation, Ganthier said, is what he called a "smart socket". "Most people don't realize," he said, "that one of the primary reasons why a system board goes down is that somebody bent a pin." The smart socket is designed to eliminate such mechanical failures – and, of course, the downtime they cause.
He also cited a "simple thing" – a light-up "do not remove" indicator – that warns admins not to yank out a drive while it is reading, writing, or being rebuilt, as well as a button inside the Memory Cartridge that, when pressed, identifies which DIMM has a memory fault or is iffy. "Details matter," he said, and help HP maintain its 30 per cent x86-server global market share. "That's everything," he clarified. "All form factors."
In its ProLiant DL580 Gen8 FAQ, HP trotted out a laundry list of performance metrics for the new box versus its predecessor: 30X faster transaction processing, 45 percent lower TCO, 2.3X better overall system performance, 30 percent greater memory and processor reliability, "industry leading" four second failover with HP Serviceguard for Linux, and so on, and so on.
There was, however, no mention in the FAQ nor the announcement press release of whether the ProLiant DL580 Gen8 server will also shine your shoes, solve the Arab-Israeli conflict, or halt global warming – but perhaps we merely missed those claims.
The HP ProLiant DL580 Gen8 can be equipped with Intel Xeon E7-8800 or E7-4800 series processors, and is available worldwide for order as of now, beginning at the low, low price of $13,079 in the US.
And although we were provided with no more-extensive pricing information, you can rest assured that a 6TB configuration will cost a wee bit more than that. ®
Sponsored: Minds Mastering Machines - Call for papers now open