El Reg gives it a wrist at MWC: From not-so-smartwatch to the selfie-taker
But why's it all in HARDWARE?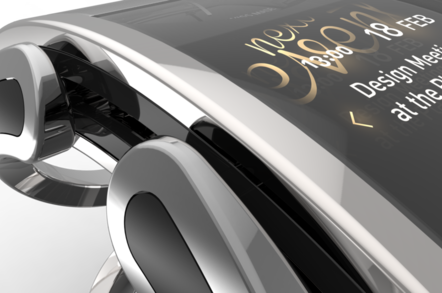 MWC 2014 Several new smartwatches are set to be shown at Mobile World Congress, demonstrating software improvements since CES at the start of the year.
Creoir is a Finnish company, so you can guess where they all worked before. They are the people behind the Jolla smartphone.
The former Nokia bods are currently working on its "Ibis" smartwatch: an attractive piece of kit with two screens, stainless steel frame, crystal display and a changeable wrist strap. It is also well-specced, based on Android with an OLED display, Wi-Fi, Bluetooth 4.0, USB, light sensor, compass and accelerometer. It can be used as a remote control for an Android or iPhone.
Pictures of the watch won't be available until Monday but from the teasers at the Creoir website it looks interesting. This is a concept Creoir is touting to brands with the view that it will ultimately sell quickly once it has a famous name on the front.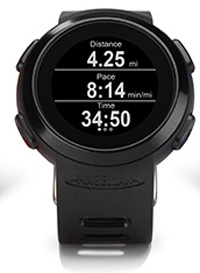 Magellan Echo sports watchE
The GPS navigation company Magellan wants more running apps for its ECHO not-quite-so smartwatch. While the Ibis runs Android, the Echo is a remote display for the smarts happening on the phone and an optional heart rate monitor. With a 128 x 128 pixel 1-inch monochrome screen, it has better than the run-of-the-mill battery life at between six and 11 months.
At Mobile World Congress, Magellen will be showing new app partners including GolfPad, FreeCaddie, All Snow, Ski Tracks and All Trails. When Magellan says "smartphone", it means "most iPhones" – Android support is apparently on its way. The echo costs $150, but MWC will be about courting developers and getting them to use the Magellan API.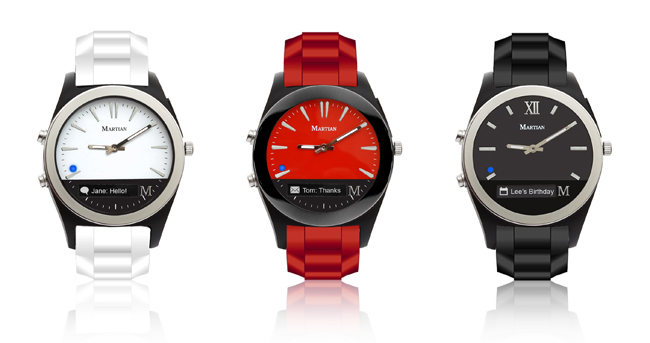 Martian Watches' Notifier
The smartest of the MWC watches looks like it will be the range from Martian Watches. It avoids the geeky tag with conventional analogue watch looks albeit with a small OLED display and voice recognition.
The "Notifier" uses the display to show Caller ID, Calendar, Weather, texts, email (POP or IMAP), Facebook, Twitter and any other alerts your smartphone allows. Much like pagers and phones of old, you can set individual vibration patterns via the app that allow you to feel if it is a text, email, call or otherwise that is coming in based on the vibration pattern without looking. One clever feature is the ability to use the watch as a camera remote release for when your arm isn't long enough for the selfie you want to take. The Martian Voice Command watches will set you back $250-$299, while the Martian Notifier (pictured) is $129.
So if you think that watches have been superseded by the mobile phone and sport a naked wrist, the mobile industry has different ideas. ®
Sponsored: Minds Mastering Machines - Call for papers now open