SPACE VID: Watch JUMBO ASTEROID 2000 EM26 buzzing Earth
Slooh web 'scope tracking space rock from 18:00 PST, 02:00 UTC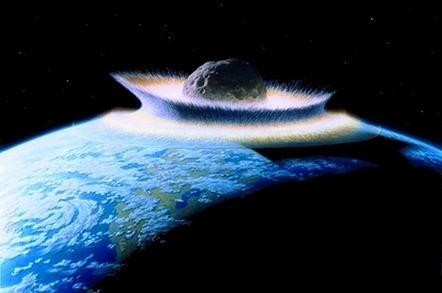 Vid If there's nothing on TV tonight, or you're suffering from insomnia, readers of The Register can always tune in to an asteroid flyby, broadcast live online by the Slooh Observatory.
Slooh's cameras will start streaming commentary and footage of near-Earth space rock 2000 EM26, here and in the player below, from 6pm Pacific Standard Time today (9pm Eastern Standard Time, 2am UTC, 1pm Australian EST).
The catchily named 2000 EM26 is a 270-metre (885ft) chunk of rock moving at about 27,000MPH (43,400KMPH, 12.37 kilometres-a-second). The asteroid, as big as three football fields, is classified as "potentially hazardous" although it won't be this time it zips past our world: today's flyby will be at a safe distance. The nearest point of approach will be 2.6 million kilometres (1.6 million miles, 0.018 AU) from Earth, or about nine times the distance from here to the Moon.
Slooh will be using its telescope in the Canary Islands to track 2000 EM26, and will have astronomer Bob Berman, technical director Paul Cox, and guest Dr Mark Boslough on hand to answer questions during the live webcast.
As National Geographic notes, 2000 EM26 "will be shining at only a feeble 16th magnitude in the northern sky constellation Bootes, the herdsman", so don't bother searching for it without a fairly hefty telescope. ®
Sponsored: Minds Mastering Machines - Call for papers now open