Free space optics gets shiny new snake-oil paint job
Money-sharks with frikkin' lasers for this week's 'tech' media rating system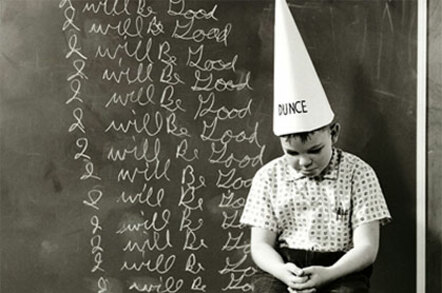 A technology more than 15 years old is getting a brand-new publicity brush-up because it's been discovered by the high-frequency trading community.
Free space optics is older than The Register, even: it's been around so long that in the mid-1990s, it was even exciting in Australia, where a company called Davnet was founded to sell telecommunications links in CBDs using FSO systems. The company later exploded in a shower of sparks in the "tech wreck".
In the meantime, bandwidth became cheap and telecommunications markets became liberalised, and while FSO didn't fade away entirely, it mostly fell out of the public eye.
Until the high-frequency traders met the FSO vendors, and created a publicity marriage made in heaven completely irresistible to both the business press and the tech press. It's almost as good as Flappy Birds for testing your tech media – so why not?
A. Does the author know that fibre-optics uses lasers?
Here's an except from a real article: "an ultra-high-speed laser network ... will be just a few nanoseconds faster than the current microwave and fibre-optic links". Clearly, the workings of fibre-optics are a mystery to the writer.
B. Does the author understand that light and radio are both electro-magnetic waves?
A writer who thinks light in air moves faster than radio waves, is out of their depth.
C. Can the author plug the speed of light into a spreadsheet?
The speed of light in an optical fibre is only about 2/3 the speed of light through the air. At the physical layer, the direct link isn't a few nanoseconds quicker than fibre over, say, 10km – it's about 17 microseconds quicker.
D. Is it about the propagation delay?
If the author hasn't noticed that a direct link eliminates at least a couple of router hops, they don't understand networks.
So yeah: this old technology probably does warrant a little bit of attention. Hopefully, by people with a spoonful of clue. ®
Sponsored: Minds Mastering Machines - Call for papers now open