FAS flash biz boxen refresher: New boxes fit WHERE exactly?
Harder, better, FASter, stronger...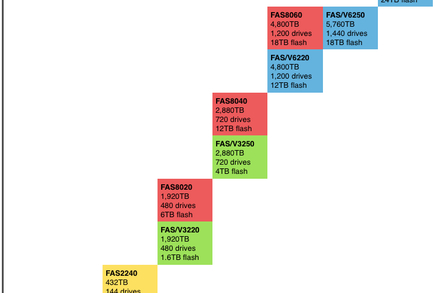 More FAS info has percolated out through the walls of NetApp's community and we can have a stab at positioning the coming FAS8000s against the existing range - and there's a surprise.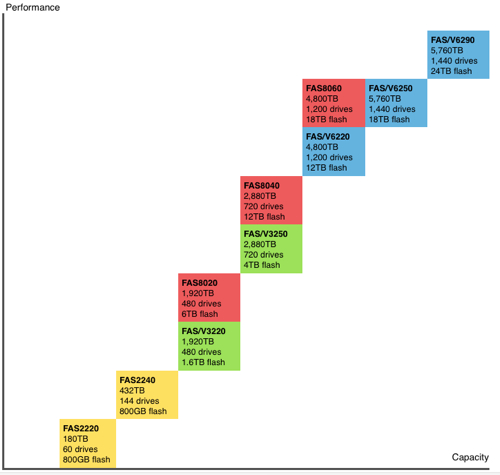 Flash is VST (Virtual Storage Tier) flash. Click chart to embiggen it and save your eyes.
See our rough positioning grid above...
We've coloured the cells for the various FAS product groups differently so you can pick them out more easily.
Studying the chart reveals that the FAS8020 and 8040 retain the capacity and drive counts of the FAS/V3220 and FAS/V3250 but the virtual storage tier flash capacity goes up to about threefold. Add in new controller processors and you get a big jump in performance.
With such a correlation in capacity and drive count, we think the FAS8000s will take over from the FAS/V3000s and they'll face end of life - sooner or later.
Similarly, and here's the surprise, the FAS8060 takes over from the entry level FAS/V6000, the 6220. Once again it preserves its capacity and drive count but adds 50 per cent more VST flash, the same flash total as the FAS/V6250. But that array has a higher capacity - 5,750TB vs 4,800TB - and a larger drive count - 1,440 vs 1,200.
Our grid shows the FAS8060 having similar performance to the FAS/V6250 but this is only approximate.
The chart suggests to me that there could be a coming FAS2000 refresh, maybe called the FAS4000, as well as a FAS6000 refresh, perhaps being called the FAS10000, with more flash and faster processors being added in each case. ®
Sponsored: Minds Mastering Machines - Call for papers now open