Parking firm pulls app after dev claims: I can SEE credit card privates
No user details were breached, claims firm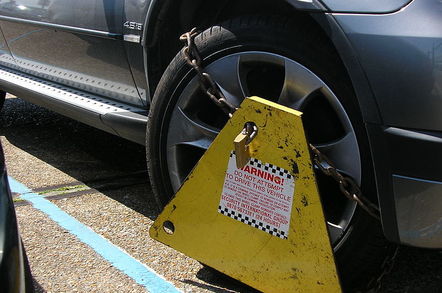 An automated parking firm has halted public access to its payment app after a blogger identified a serious security flaw which he claimed allowed him to see other users' credit card information.
According to Matt Cheetham, an iOS developer based in Bournemouth, the Phone and Pay app was so leaky that he could easily access other people's personal details.
The firm behind the app, cashless parking provider Bemrose Mobile, confirmed "functionality issues", and was concerned enough to take it down from Apple's App store until it could be updated. The app appears to be available on Google Play.
Phone and Pay is is a parking service that allows people to book spaces using their phone. It claims to be "the UK's fastest growing pay by phone operator" and operates across the nation.
Cheetham contacted the firm a number of times to report the problem.
On his blog, the iOS dev wrote: "This is a security nightmare. There is nothing stopping me spamming their API with randomly generated phone numbers and stealing every last account in their system. I can only hope that they get this fixed, for their own sake as well as everyone who uses it."
Cheetham first noticed problems with the app when he tried to book a parking ticket. He wrote that he'd found the "crudely built" app did not recognise some location codes, which are used to arrange parking in specific streets or car parks. It also featured other usability problems.
But he claimed that when he began analysing the device logs generated as the app runs, he noticed devs "forgot to turn off the logging of a URL to the console".
Cheetham alleged this allowed him to see other users' credit card details, information about their vehicle and book parking without their knowledge. To achieve this, all he did was enter another user's phone number, which then allowed him to deduce their credit card details and parking history.
After he reported the problem, the software was pulled from Apple's App store, with the news announced in the following tweet:
AfApp update - we are working on a fix for the app. An update has been submitted and is with Apple right now

— PhoneandPay (@PhoneandPay) February 6, 2014
We put our concerns to cashless parking provider Bemrose Mobile, which operates the Phone and Pay parking scheme, which allows parkers to pay by phone, text or app.
A spokeswoman said:
We can confirm that we have identified a functionality issue with the Phone and Pay App, which was acknowledged and subsequently acted upon immediately. At no point has there been a material security breach and no credit card details have been compromised. However, we feel it is our responsibility to remove the 'Phone and Pay' App from the App Store whilst we are in the process of making these adjustments.
On Twitter, Phone and Pay assured users their account details were secure. ®
Sponsored: Minds Mastering Machines - Call for papers now open