Microsoft took away $4m of our profits, laments mighty reseller
Redundo cheques didn't help either, mourn long-faced Insight grand fromages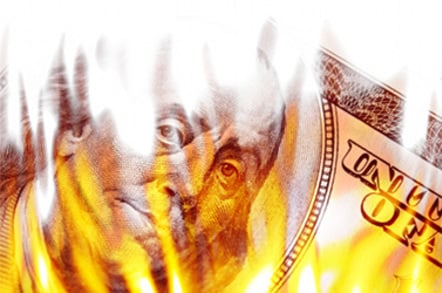 The cost of redundancies and restructuring together with the biting changes Microsoft made to sales incentives almost wiped out the profit that Insight Enterprises made in EMEA during Q4, closing the curtains on a year of change.
The reseller titan reported a five per cent regional sales spike to $397.6m in the final quarter of calendar '13, assisted by a currency tailwind, but it showed up too late to boost yearly revenues which came in flat year-on-year at $1.463bn.
Operating profit was slapped by severance and restructuring expenses of $3.6m ($3.2m net of tax), falling 81 per cent to $776k in Q4, and declining by the same percentage for the whole year to $3.9m (versus $20.4m in 2012).
And, as El Chan previously revealed, Microsoft is making swingeing cuts to rebates paid to top-tier enterprise partners. This is the second time since 2011 that Redmond has done this, and has "resulted" in $4m of lower software incentives, "primarily in the EMEA operating segment", Insight confirmed.
This will result in bottom line slippage of between $15m to $20m this year, Insight reiterated.
CEO Ken Lamneck said he was tickled pink the EMEA biz was back on the revenue growth track, driven by "increased sales of business productivity and virtualisation software in the large and mid-market clients groups".
A bump experienced in the UK mid-market biz was called out last year and resulted in a mini shake-up of the management team.
Excluding beneficial currency translations, hardware sales were flat in Q4, software - the largest unit accounting for 65 per cent of turnover - grew three per cent and services declined seven per cent. The latter is one of the areas new EMEA broom Wolfgang Ebermann will need to sweep up.
He joined the firm in January, replacing long-serving president Stuart Fenton, who exited in August, and this heralded some exec reshuffling that saw industry big hitters leave the biz – including Tony Brooker and Frank Bitoun.
Lamneck revealed Insight is still trying to fine-tune the sales engine to drive numbers that "more than offset" Microsoft's rewards reduction, saying he expected a return to positive earnings growth in EMEA during the second half of the year.
Insight chief beancounter Glynis Barber said the return to form would also be fuelled by "some recovery in the UK", the largest sales territory for the reseller.
"We didn't have a very strong 2013 platform in UK, so one of the elements that's going to aid the recovery in Europe is the recovery in the UK," she said on the call.
The late sales rally in EMEA mirrored rising fortunes at group level, with turnover up four per cent worldwide in Q4 to $1.395bn. For the year, Insight revenues declined three per cent to $5.14bn. Group operating profit was down two per cent in Q4 to $20.4m, and down 18 per cent for the year to $121.2m.
North America turnover was up four per cent in Q4 to $942m but down by the same figure for the year to $3.47bn. Operating profit slid eight per cent in the 12 months $116m.
The smaller Asia Pacific operation ended the year badly as sales slipped nine per cent to $54.8m. For the year, the top line slipped three per cent to $204m and operating profit was down seven per cent to $10.5m. ®
Sponsored: Minds Mastering Machines - Call for papers now open