iTunes radio tunes in to Australia for first launch beyond USA
DO touch that dial: it's not much better than Apple maps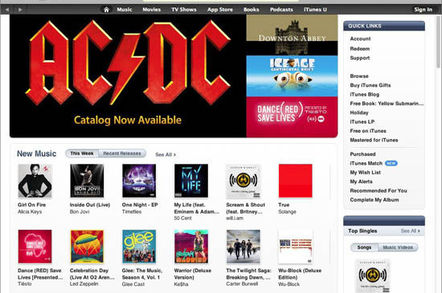 Apple has activated its iTunes radio service outside the USA for the first time, with Australia the lucky nation chosen to receive Cupertino's competitor to Spotify, Pandora and rdio.
iTunes radio launched in September 2013 and is free to all users of iTunes and iOS-powered devices. Like other streaming music services, iTunes radio plays ads between songs. Unlike the likes of Spotify, which happily plays whole albums, iTunes radio only offers the chance to create "radio stations" that take a user's designated song or artist and build a playlist of similar tunes.
In Vulture South's quick tests, it's not very good at that.
To test the service's awareness of Australian music, we fed it the track "Rock 'N' Roll Is Where I Hide" by Dave Graney and the Coral Snakes. Graney is a deeply ironic, anti-rock-star kind of chap whose career has been spent well and truly beyond and without the mainstream. Imagine our surprise, then, when iTunes radio produced Tom Jones, Eric Clapton, David Bowie, Cat Stevens and – yikes! - a Jose Feliciano cover of The Doors' "Light My Fire" as related listening. Spotify's radio station for the same song at least produced other Australian artists of similar age and global obscurity (Regurgitator, The Badloves, Grinspoon, Machine Gun Fellatio) even if it missed Graney's slightly middle-aged vibe.
Long story short? If you think iTunes Radio arriving inside your borders will rock your world, then your definition of rock might have to incude Tom Jones.
Apple has form relying on terrible data about Australia, having earned the ire of local Police after its maps service directed drivers to the middle of a desert. Equating a local minor indie legend with Tom Jones may be even more deleterious to Apple customers' health. ®
Sponsored: Minds Mastering Machines - Call for papers now open