Zuckerberg tops the list of most generous Americans with billion-dollar gift
Tech sector starting the giving game young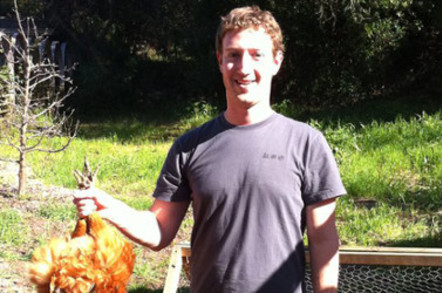 Last year Mark Zuckerberg and his wife topped the list of the most philanthropic Americans thanks to a donation of $992.2m to the Silicon Valley Community Foundation.
You might have thought that Bill Gates would top such a list, considering the billions he has ploughed into his own charitable foundation, but this year Big Bill gave "only" $183.9m in new money last year. But it has still been a bumper 2013 for charities, according to the data published by the Chronicle of Philanthropy.
The Chronicle noted that the richest Americans gave $7.7bn to non-profits last year, up 4 per cent on 2012, with the median gift amount being $86.1m. The second highest donation recorded was $750m, given by the estate of Texas energy tycoon and the co-inventor of fracking George Mitchell to fund an environmental charity that will promote sustainability.
At 29, Zuckerberg is the youngest person to top the giving list and is somewhat atypical, since the median age of donors was 72.5, but this is a sign of things to come, according to experts in the field.
Marilyn Bancel, principal with the non-profit specialist firm The Oram Group, said that the technology sector is giving more money at a much younger age than has been seen in the non-profit sector, and this is having a notable impact on overall charitable disbursements.
"There is a tremendous uptick in amount of philanthropy coming from young gazillionaires," she told The Register. "It's definitely a modern phenomenon that the newly wealthy are more engaged in philanthropy than any of their predecessors."
The tech sector is also looking at new ways of giving, she said. While the bulk of bequests still go to colleges, foundations, and hospitals, technology donations are increasingly going to issues-based foundations. "They're looking at big levers to change the world," she explained – and they also want to see a measurable impact for their money.
The other major change Bancel noted was an increase in international projects being covered by such donations. There is a sharp increase in people wanting to fund education programs in impoverished countries, particularly those that educate girls who had been denied learning programs in the past, she said.
While the precise details of what the Zuckerbergs will be funding is not known, the behoodied one and his wife have been keen on sponsoring educational initiatives. Last year they gave $498.78m to charity, so there are likely to be some very lucky schools looking to come into much-needed funds. ®
Sponsored: Minds Mastering Machines - Call for papers now open