Micron: PCM? Pah. Gaze upon our MUTANT flashy memory cube
Memory bods fling doors open to analysts+dogs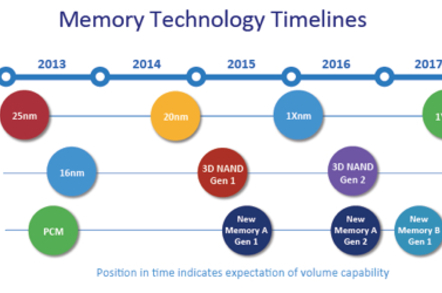 A Micron analysts day revealed the boys from Boise think nothing much will happen with resistive RAM technologies like the Memristor for five years, and that volatile/non-volatile memory configs for servers are going to grow.
During the conference itself Micron presented lots of technology goodies.
CEO Mark Durkan started out by saying customer relationships were evolving into strategic partnerships - meaning Micron is so embedded with these customers that competitors can butt out.
There are five big tech trends: networking, machine-to-machine, mobile, cloud and big data. He highlighted customers in each area, with NetApp included in the networking area (see slides here (pdf)). Go figure.

He said industry bit supply growth is slowing and that the slowing trend enables products like 20nm DRAM, Hybrid Memory Cube and MLC/PCIe Enterprise SSD, as well as "the hybrid memory cube which is a complicated memory system, high-density DRAM [paired with] with an A6 that performs all sorts of functionality as well as high speed interface with a CPU."
HMC progress:
2GB and 4GB options available now
Engineering samples shipping today
Multiple partner demo platforms running
Volume production begins Fall 2014
Gen2 design wins in progress = 18+
Gen3 draft specification released to HMCC Adopters
Micron will have both MLC and TLC HMC products enabled.
Durcan admitted a Micron TLC deficiency: "We're finding out that our competitors have done a better job at enabling Triple Level Cell. That is not something we can't do. As a matter of fact we're in process, it's not new news, we're trying to catch up."
Micron president Mark Adams discussed what Micron is developing: "It's no longer about just in a standard model configuration; it's about things like controller technology, firmware, software and even far down the path of developing storage appliances for example to enable our customer base."
Scott DeBoer, Micron's R and D veep, said Micron's 25nm DRAM geometry was solid and reaching maturity, and 20nm yields are developing: "The two nodes behind that in my view are still difficult but relatively evolutionary. So I think we see a clear path to how we're going to what we call a 1x and 1y node ... I think we have a clear path on those and I think the node behind that [1V] is the one that is potentially very disruptive and is going to require some more innovation. A year from now we may talk about the fact that we think it's another evolutionary node and certainly we're going to work very hard to make that happen."
In NAND 16nm development is going well with manufacturing ramping up: "We have our first SSD product qualified on the [16] nanometer node as well."
DeBoer added: "The other big thing from a milestone point of view in 2013 was really around the enablement of system technology in the form of HMC, Hybrid Memory Cube (HMC)."
Sampling is expected in the first half of this year.
Micron is looking closely at the cost-effectiveness of 3D NAND versus traditional, planar. NAND and thinks that HMC could be the post-16nm planar technology follower. Second generation HMC will be more cost-effective than gen 1. The chart below shows the general timescales for volume capability: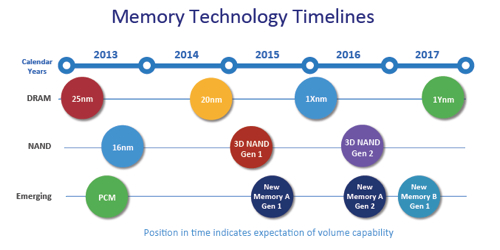 The Emerging Technology timeline is interesting. PCM is Phase Change Memory. With New Memory A Gen 1 and 2 and New Memory B it's clear Micron has not given up on PCM.
DeBoer observed: "We believe the opportunities are really in a focus area on very [high] performance with non-volatility and kind of a medium space that we call storage class memory which is non-volatile, a little better performance than NAND and had a worst cost structure than DRAM. So, we see the world kind of revolving towards those two things as not replacement opportunities necessarily for DRAM or NAND but for memory performance solution enabling type of technology. So, we are putting a lot of focus into that segment of new memory technology development."
But: "We still see NAND and DRAM as being exclusive coverage for certain parts of the memory business for at least the next five years and really indefinitely on certain parts."
Brian Shirley, VP of DRAM Solutions, discussed non-volatile DIMM (NVDIMM) technology (what SanDisk calls ULLtraDIMM): "To the user the DIMM looks just like a memory module. You plug it in the same way, same interface, but on that module there is actually a controller and Micron NAND behind that."
"The module is actually capable of persistent storage and that ends up being something very-very interesting to just about every server OEM we're selling to. This is here in now DDR3 getting some great traction and in 2014, you'll see some this extended up to DDR4."
He sees the application being system check-pointing, with PCI-E flash being used for real-time data caching.
Here are some bullet points:
4GB/8GB DRAM/NAND
SLC NAND for high endurance
DDR3L-­‐1333, DDR3-­‐1600
8GB/16GB DDR3
16GB/32GB planned for DDR4
Changing topic, he said the automata processor - an array of DRAM memory arrays coupled with processing elements - makes a good pattern recognition engine, useful for things like vision recognition issues, network virus detection, and bioinformatics. This is a long-term play.
He also answered a question about HMC revenues: "In 2014 there will be revenue on HMC, and 2015 we think you'll start to see it as a needle mover."
Micron initially viewed HMC as being needed for high-performance computing but now reckons networking will need it too.
Shirley also discussed the PCIe bus extending Virtensys technology use by Micron: " I think really as we started to get into 2015 you will start to see significant product opportunity with the kind of converged PCIe switch that box enables helping to really bring the network closer to the actual server CPU. That's what the Virtensys architecture is all about."
Micron is becoming a prime mover in more and more storage areas. El Reg is intrigued about the networking need for HMC technology and looking forward to a flooding of flash DIMMs across every server manufacturer, with intense competition between SanDisk and Micron. ®
Sponsored: Learn how to transform your data into a strategic asset for your business by using the cloud to accelerate innovation with NetApp