Apple's Hacker Princess dumps fruity firm for Elon Musk's Tesla
Kristin Paget trades fanbois and slabs for 'leccy cars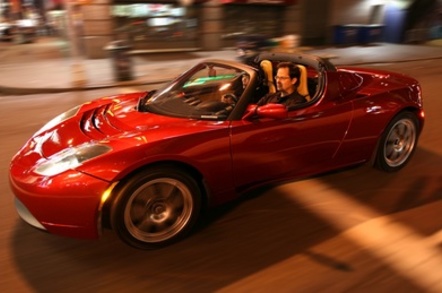 Apple's "Hacker Princess" has left Cupertino for a new job at Tesla Motors.
Kristin Paget, formerly chief hacker for reverse engineering firm H4RDW4RE, is best known for her Defcon research on a variety of GSM mobile network hacks, cooking up a passport RFID cloner and her work with a team of hackers on the security of Windows Vista.
Paget famously chose her own job title when working at the fruity firm, but it has not yet been revealed what her new title will be at the electric car company.
Paget, whose Twitter bio states: "I hack things - electric cars, currently," was cagey about what her new gig would entail. She wrote: "Can't say too much but 'securing things' is a fair bet."
She announced her new job with a tweet:
What has two thumbs and starts on Monday at Tesla Motors? This girl right here :)

— Kristin Paget (@KristinPaget) February 7, 2014
Paget certainly seems to be excited about her new role, as she appears to have constructed a Tesla coil in tribute to the firm's namesake.
I have finally built something that scares me so badly I may never turn it on. Fun! Thanks, OneTesla! :) pic.twitter.com/hqSgB5C2Jd

— Kristin Paget (@KristinPaget) February 8, 2014
There's no word about her pay, but Paget can't be too badly off because a previous Twitter post showed the Tesla coil kit costs $329.99.
The transgender woman took a month-long break from Twitter in November last year and then returned to the social network before announcing her plans to leave Apple at the end of January.
It is unclear why Paget decided to leave Apple.
Luckily the career move is within California state, where Tesla's HQ is situated. El Reg previously warned that her title of "Hacker Princess" risked attracting the attention of lawmakers if Paget spent time in the state of Idaho, where a US district court ruled that anyone calling themselves a "hacker" forfeits their Fourth Amendment protection against unreasonable searches and property seizures. ®
Sponsored: Minds Mastering Machines - Call for papers now open