CommVault: Data-sifting cloudy archive shifter ... and now revenues lifter
But third quarter results show profit growth slowdown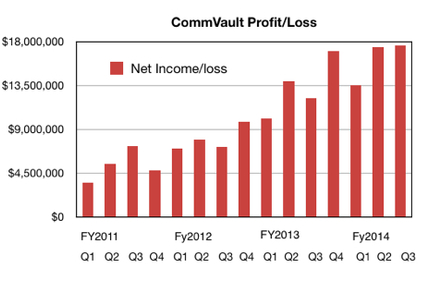 CommVault's revenues are growing nicely, and so are its profits, but the rate of growth has slowed somewhat.
The company supplies the popular Simpana backup, archive and data management software product. For its third quarter, which finished on 31 December, revenues amounted to $153.3m, a rise of 23 per cent from a year ago and $12.6m higher than the immediately preceding quarter, and exceeding Wall Street estimates.
Profits were $17.6m, just $200,000 higher than in the prior quarter and a full $5.4m per more than last year's Q3, but it looks like profit growth is slowing.
N Robert Hammer, CommVault's chairman, president and CEO stated: "We achieved solid third quarter financial performance which was highlighted by record results in quarterly revenues of $153.3m…
"We are consistently gaining market share and delivering solid revenue and earnings growth. We will continue to invest in our enterprise selling capabilities and expand our distribution and market reach throughout the remainder of fiscal 2014 and into fiscal 2015."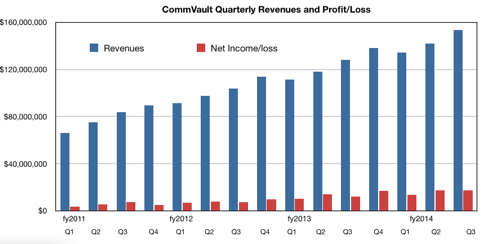 Nothing was said in the prepared remarks about the profits slowdown, which could be the result of lingering fallout from the Dell Appassure deal.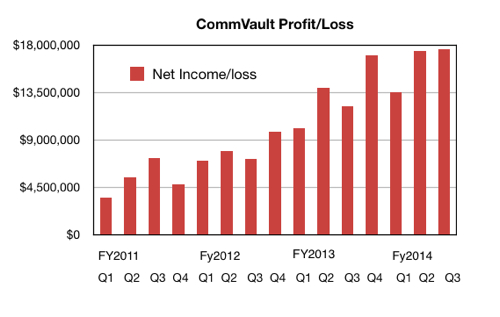 CommVault said: "Software revenue in the third quarter of fiscal 2014 was $79.2 million, an increase of 20 per cent year-over-year and 12 per cent over the second quarter. Services revenue in the third quarter of fiscal 2014 was $74.0m, an increase of 19 per cent year-over-year and 4 per cent sequentially."
We surmise there was either pricing pressure, a rise in costs or both.
William Blair analyst Jason Ader noted "a steep decline in revenue through Dell - down 38 per cent sequentially," and also singled out deferred revenue from previous deals as somewhat distorting the actual software revenue in the quarter. He did some calculations to exclude this and thinks that "the [next] quarter software revenue will be a tell-tale metric to either dispel or validate fears of deceleration."
Stifel Nicolaus MD Aaron Rakers said: "The decline in software deferred revenue primarily reflected the decline in a large Fed deal with Dell and a couple other large deals – now behind the company."
He also talked about CommVault moving from the perpetual-licence and capacity-based licensing models to new strategies such as deal-by-deal pricing.
Rakers opines: "This reflects CommVault's proactive realisation of the industry decline in $/GB (vs its capacity-based model at +$3,000/TB under management) will require some model changes going forward."
He said: "CommVault noted that it is currently a provider to 150 MPS and cloud providers, citing customers including Rackspace, Microsoft, Hosting.com, Verizon / Teramark, KPN, among others."
This could be a strongly growing market in the future.
Overall the company gained 500 new customers in the quarter. The number was 400 in the previous quarter. It now has around 19,500 customers in total.
CommVault expects double-digit growth in revenue earnings next quarter. It is confident more of its approximate 18,000 customer sites on older versions of its software will move to Simpana 10, the latest release, than the 3,000 which have already done so.
The migration rate is currently 100 customers/week. ®
Sponsored: Minds Mastering Machines - Call for papers now open